Homeschooling many ages of children involves a lot of things. One of the major ones is organization. Keeping our day organized is a MUST if we are to get anything done. We have been using the ideas and tricks from Managers of Their Homes for years. This book has really helped me get a handle on all that needs to be done to run a household of many people smoothly and effectively. I learned how to schedule time with each of my children, how to schedule our homeschooling day so that I spent time teaching each child and they weren't all asking for help at the same time. There is time for personal scripture study, exercise, and blogging or other projects.
My kids have also learned to manage their time! They've learned if they get their chores done well and in a timely manner then when they have free time they can play or do projects they are interested in rather than having to still work on their chores. They have also learned if they have questions with some of their school work I will get to them and give them my undivided attention. It is a process that did take some time to learn for all of us. We had to focus on not getting distracted. Now that it's a habit our school days go so much more smoothly! (Not to be confused with our summer days when farming changes everything). I'll be posting next week about our daily homeschool schedule and how it has evolved.
With Managers of Their Homes you are given a paper schedule with a different colored paper for each person. You write down everything you want to accomplish in a day, everything your kids are supposed to do, and assign a time frame for each. For instance here's a look at one of our old schedules.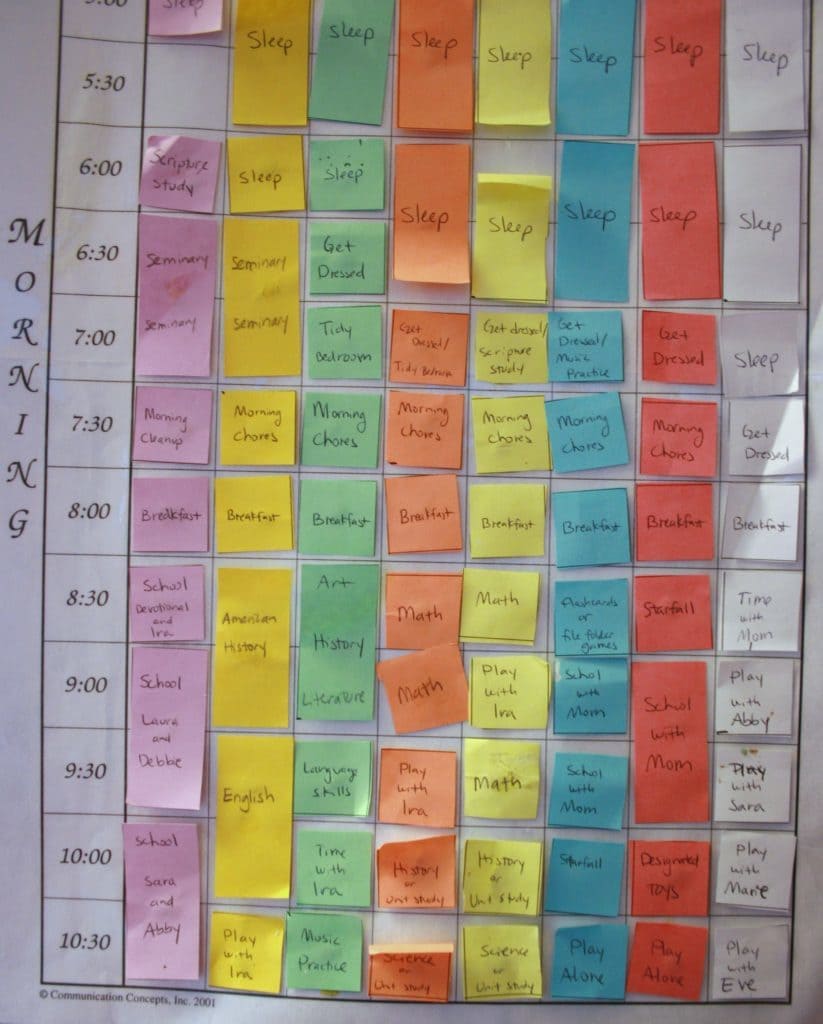 The colors are very helpful in seeing each person's schedule. At a glance each person knew where they were on the schedule and what they were supposed to be doing. It was time consuming though to cut out all the papers, rearrange them so nothing conflicted, and the schedules are actually HUGE. Here's what our daily schedule looked liked.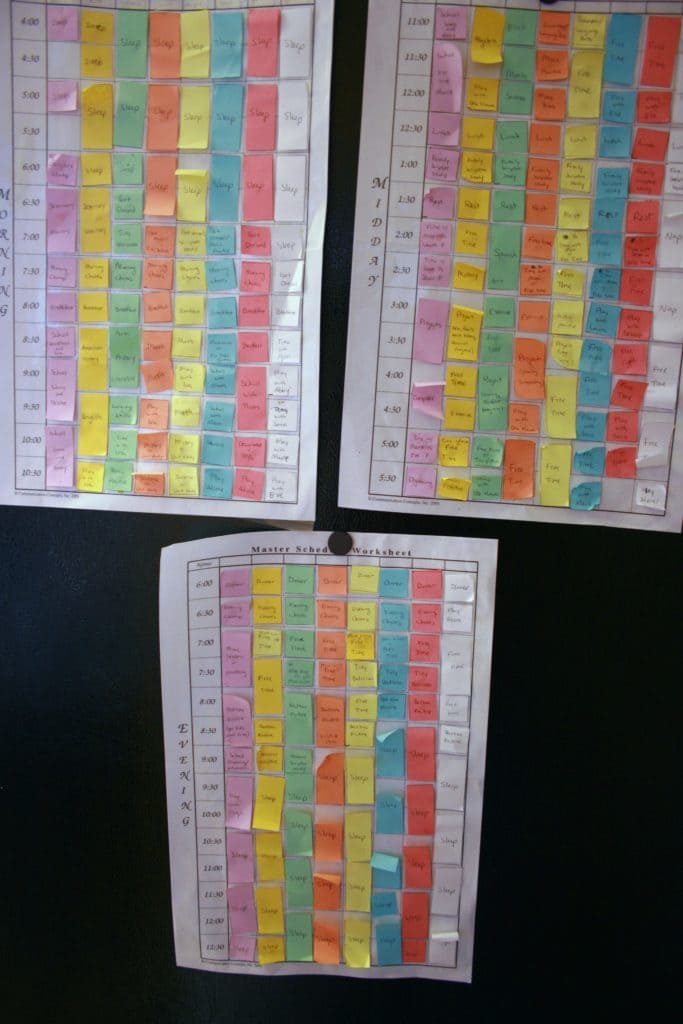 The schedule took up one whole side of our fridge. And all those tiny little papers! Another draw back was the schedules themselves were paper. Someone was always stealing the magnets that hung them up, the schedule would fall and get crumpled. After taking so much wear and tear I would have to do a new one. I tried creating one in an Excel document but that took almost as much time as cutting out all the little papers. Not fun. We even went without it for a while but that was disastrous.
I needed something simpler but still as effective. And I found it! Or, rather, it found me.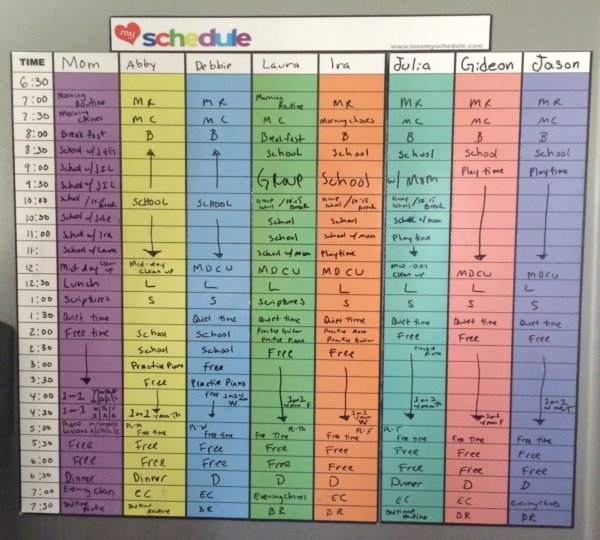 Oooooo, looks very similar. There is a different color for each person. The entire schedule is magnetic. And you use a wet erase marker to write down your schedule. No more tiny papers to cut and rearrange! Do you know how happy this makes me?!
It's called……… can you guess? …………Love My Schedule. Brilliant, right?
We are using the daily family schedule with an extension pack. Notice the whole schedule is about the size of one of the three schedules we were using before.
If you have a really picky kid who wants a certain color but it's out of family order. No worries. Each column separates from the others so you can rearrange the colors to your liking!
When I first heard about these from Amy, who is also a mother of many,  and developed Love My Schedule, I thought, "Why didn't I think of this?!" Making the entire schedule magnetic while keeping the colored columns has really simplified the whole schedule creation from Managers of Their Homes.
And I really do love my schedule!
Would you like to be more organized in your day? Amy has generously offered a free family daily schedule to one of my readers. And I'm throwing in a free Managers of Their Homes book to go with it! Just use the Rafflecopter below to enter. Giveaway ends Monday, Sept. 5th at 5pm PST.