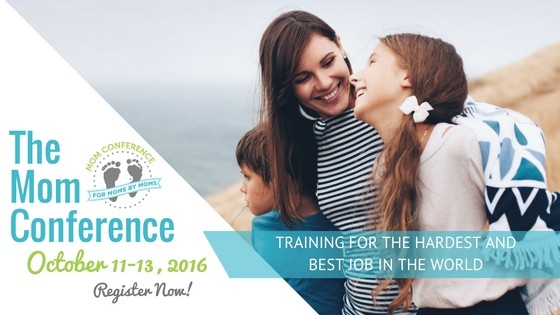 If you believe that motherhood is the toughest and most beautiful job in the world, I've got just the thing for you! Oh ladies, I am SO EXCITED to tell you about The Mom Conference coming up next week hosted by the Power of Moms! It is completely free! You can tell I'm excited because I just used exclamation points for those first three sentences. 😀
WHAT IS THE MOM CONFERENCE?
The Mom Conference is a totally FREE three-day online event featuring some truly amazing speakers and YOU are invited to attend!
Join over 100,000 moms around the world on October 11, 12, and 13th and come away armed with powerful new strategies for everything from sibling rivalry to healthy eating to finding more joy in motherhood.
It is hosted by The Power of Moms, a website and organization, geared toward helping mothers do the best job they can in the hardest and most rewarding job ever – motherhood.
WHY ATTEND?
Being a mom can be overwhelming at times, right?! The Mom Conference involves 20 online classes by 20 rock star speakers (mostly moms) who will teach you how to:
Understand and manage your children's emotions (and your own!)
Teach your children about sex (yes, you really do need to do this…)
Help your children to embrace healthy foods while teaching them to cook
Raise grateful children and avoid the entitlement epidemic going on these days
Manage your children's cell phone use and screen time (such a tricky and important subject!)
Take better care of your body, mind and soul (yes, YOU need to be cared for along with your children!)
Develop and stick to a budget that really works
Nurture your marriage
Teach your children – babies through teens – the values and character traits that will help them be successful and happy
Get that house clean and keep it that way (in a fun way!)
Find more joy in motherhood
Sounds amazing, right?
WHO WILL BE SPEAKING?
There are some amazingly qualified speakers lined up for the conference. Take a look at some of them below.
Dr Laura Markham, Clinical Psychologist, bestselling author and discipline expert at Aha Parenting (Helping Kids – and Yourself – Manage Emotions)
Katie Kimball, expert on healthy eating for families and founder of Kitchen Stewardship (Want Responsible and Healthy Kids? Teach Them to Cook and Eat Real Food)
Ramona Zabriski, author of "Wife for Life: Your Power to Succeed in Marriage" and Founder of Wife for Life University (How to be a Wife for Life)
Amy McCready, positive discipline expert and author and creator of Positive Parenting Solutions (Raising Motivated and Grateful Children During this Me, Me, Me Epidemic)
Jesse Mecham, Founder of You Need a Budget (Budgeting Made Simple)
Dina Alexander, Founder of Educate and Empower Kids (How to Talk to your Children about Sex)
Richard and Linda Eyre, NYT #1 Bestselling authors who run Valuesparenting (Simple and Powerful Ways to Teach Children Values)
Shawni Pothier, founder of the popular mom-blog, 71 Toes (Managing Kids' Cell Phone and Screen Time – Without Making Them Hate You)
Marla Cilley (a.k.a. the Fly Lady), author, home organization and cleaning mentor, founder of FlyLady.net (Specific Systems for Cleaning)
To see the full line up of incredible speakers and topics, click here and scroll down to the speaker section.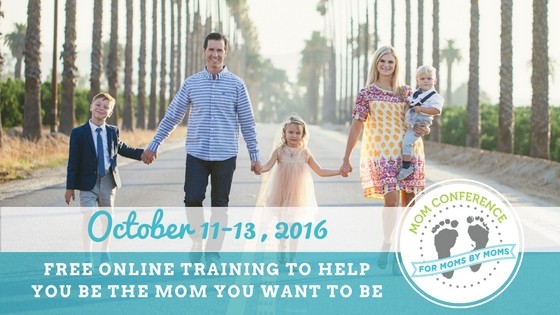 WHAT IF I CAN'T WATCH IT THAT DAY?
Each day of the conference, you will receive an email with a link that allows you to access 6 stellar video presentations. You can watch that day's presentations anytime during the 24 hour viewing period for those presentations (while you're folding laundry, while your baby naps, whatever works!).
I know from experience that most moms won't be able to carve out time to participate in all 20 presentations during the three days of the conference. I certainly won't! We will all have the opportunity to purchase the recordings of all the interviews so we can watch and re-watch again and again.
And to help you avoid procrastination (I know how it goes!), if you register RIGHT NOW, you'll have access to the following FREE GIFTS as soon as your registration has been completed!
– FREE Audio Story and Family Discussion Guide: These materials will help you teach your children about honesty in a really fun way
– FREE Guide: 7 Day Healthy Eating Meal Plan and Shopping List
Come participate ONLINE and be inspired October 11, 12 and 13th!
See you at The Mom Conference!