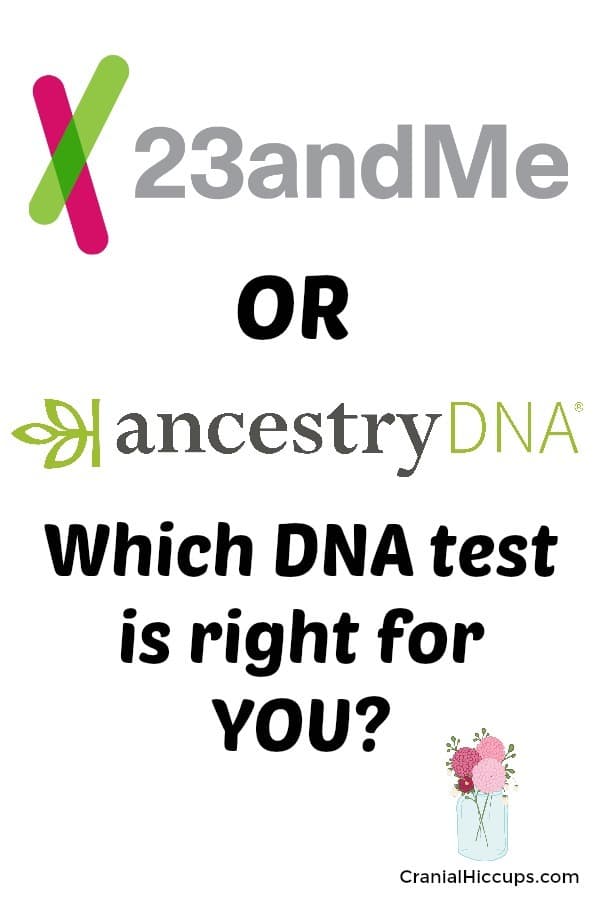 One question I get the most often about the DNA tests I've done is "Which company do you like better, AncestryDNA or 23andMe?"
That's kind of a hard question to answer because they each focus on different areas. It depends on what YOU are looking for in a DNA test.
ANCESTRY DNA
AncestryDNA is great for expanding your genealogy. If you are stuck on parts of your family tree or just want to find long distance relatives AncestryDNA will help you do that. This is what the DNA insights screen looks like.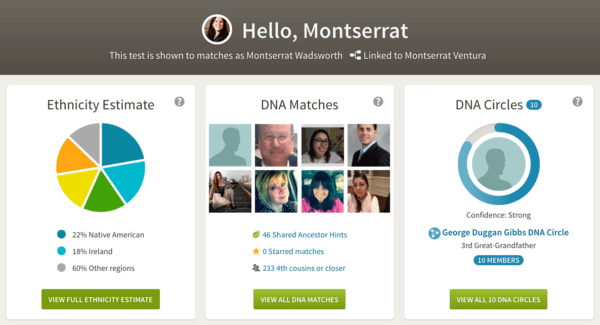 I can click on the Ethnicity Estimate on the left to see a breakdown of what ancestral DNA I carry.  The DNA Matches in the middle show me about how closely related I am to certain matches.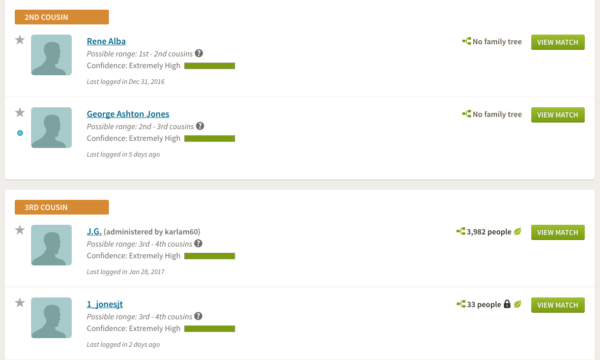 When I click on a match I can see our predicted relationship as well as their family tree (if they have one).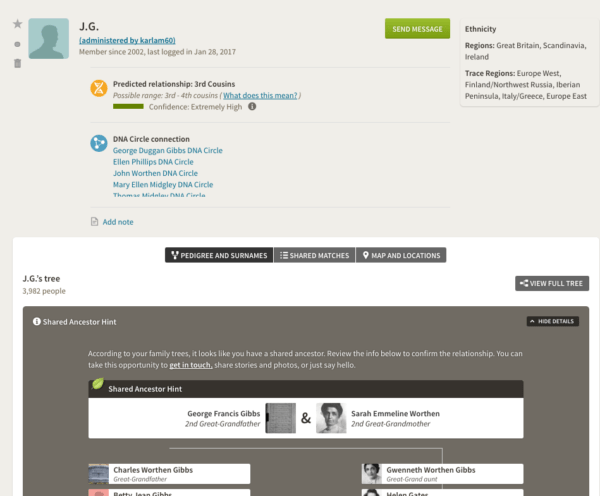 I can also see our shared matches – people who match both of our DNA. This helps in narrowing down which ancestors you have in common.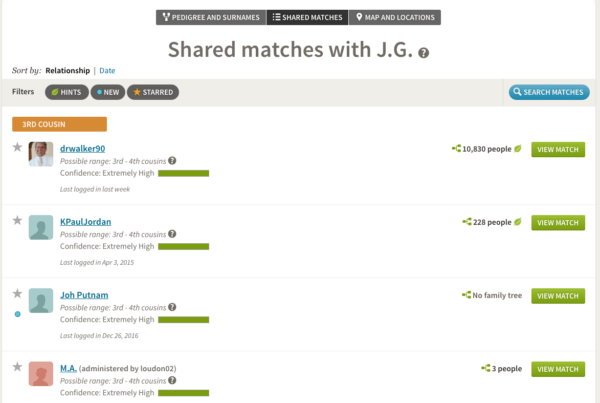 If you have a family tree uploaded than you are placed in a DNA Circle. It shows you which other members are descended from a common ancestor. Even though you are all descended you might not all share matching DNA with each other but you all did inherit some DNA from that ancestor.  The gold lines show which members of the circle I do share DNA with.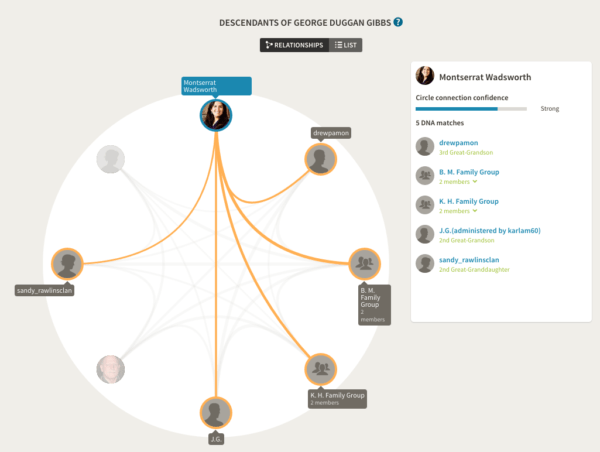 I can click on other members to see who they share DNA with too.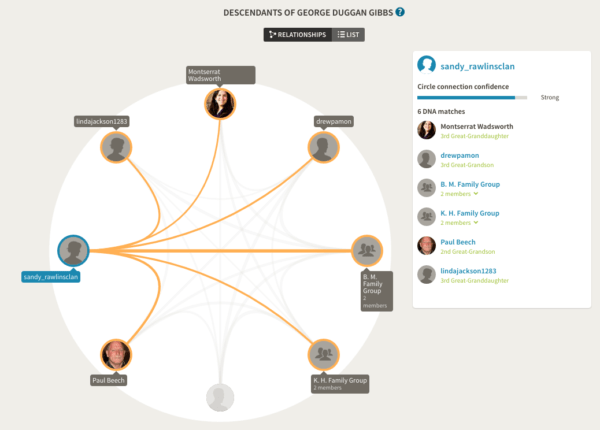 This helps to expand genealogy connections. Two people in this particular circle don't share DNA with me so they didn't come up in the DNA matches but because they share DNA with other members of the circle they are related to me!
23andME
23andMe has a different approach and emphasis with their test results. Like Ancestry you get a personalized Ancestry Composition report. You are also matched with DNA relatives.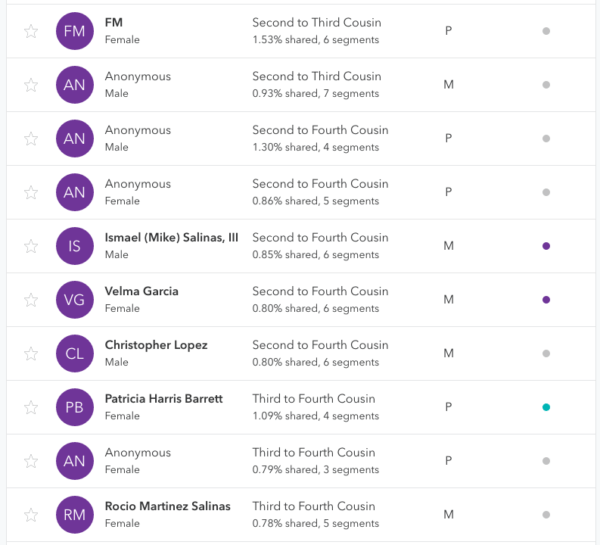 Since my parents have also taken a DNA test and are linked to me I can see how I am related to my DNA matches whether through my paternal (P) or maternal (M) side. 23andMe has a neat chart showing you which chromosomes have genes from different ancestries. They call it a chromosome painting.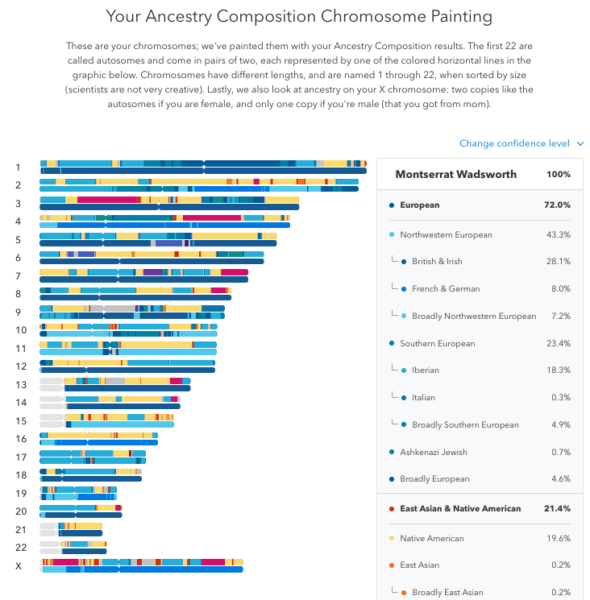 There is also an Ancestry Timeline to show about when a certain ancestry became part of your DNA.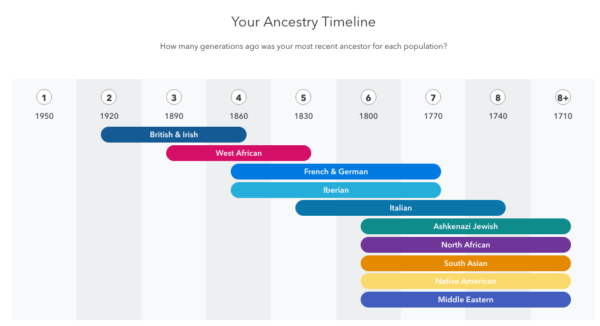 Because my parents have also been tested I can see exactly how much Iberian (Spanish) I inherited from my dad and how much I inherited from my mom. My children can do the same and see how much they British/Irish they inherited from me or Joseph. Cool, right?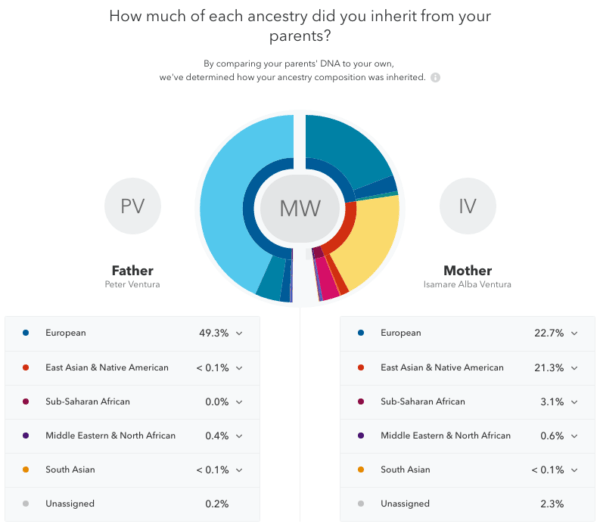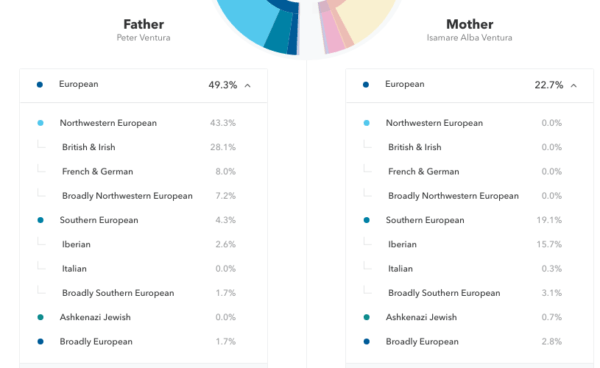 There's a whole host of other tools offered by 23andMe too. Share and Compare lets you see which segments of your chromosomes you share with others. Here's a screenshot of what my daughter Laura shares with my father. Notice the percentage of DNA she inherited from him! Not the 25% most people think they inherit from their grandparents.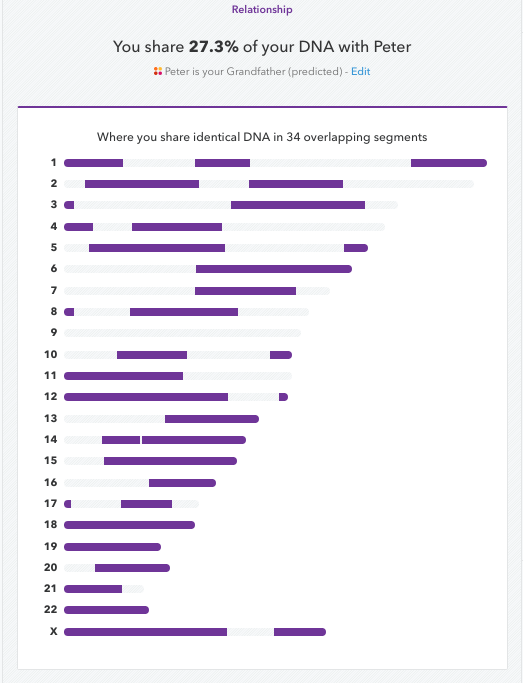 23andMe also tests for haplogroups – maternal and paternal. Since I am female I do not have a paternal haplogroup but I know what haplogroup my father has. Haplogroups tell your maternal or paternal line ancestors. My mtDNA is B2 which is a subgroup of B4'5. All my daughters have this same mtDNA as will all my grand-daughters, great-granddaughters, etc. who are born through my daughters and their daughters, etc. It is the line that connects mothers and daughters back through time.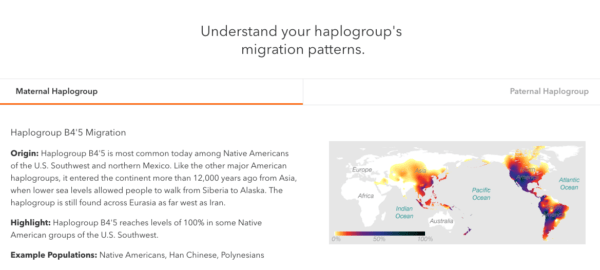 23andMe offers health reports for an added charge. Those come with many more reports to explore and learn from.
WHICH DNA TEST?
As you can see AncestryDNA is really great for those wanting to connect family trees. Do you want to expand your genealogy or fill in some gaps? Then AncestryDNA is the better choice for you. (Save 10% when you use that link)
Are you more interested in comparing actual genes you and other family members share? And maybe a health report too? Then 23andME is the better choice for you.
I am glad I took both DNA tests because they do offer different things. Some day I will be able to fill in this gap in my family tree and I'm sure it will take DNA testing to do it.