Keeping my family healthy is a priority. Using essential oils is just one of the many things we do.
Essential Oils
Did you know my dream as a teenager was to major in biotechnology? I had visions of trekking through the Amazon finding the elusive plant that would cure some disease. Plants really are amazing! Every medicine you use began with a plant. Modern science has learned to not only isolate the chemicals found in plants (and some animals) but also create it artificially. That's how you get the medicine you buy on the shelf at the drug store or the pills you purchase from the pharmacist. Essentials oils also come from plants. An oil is "essential" in that it contains the "essence" of a plant's fragrance.
I know some people scoff at those who use essential oils. I get it. It CAN be taken too far. It's definitely not a cure all. As with all medications you must be careful and wise in your use. Moderation is key. We use a blend of essential oils to build our immune system when we feel a cold or sore throat coming on. We don't use it all the time – only when we begin to feel like we are getting sick. I do think they help!
I've mentioned before I buy my essential oils from Rocky Mountain Oils. You don't need a middle man so you are purchasing directly from them. They have free shipping! You can see the quality test results of every bottle of oil you buy. I am really impressed with their customer service too.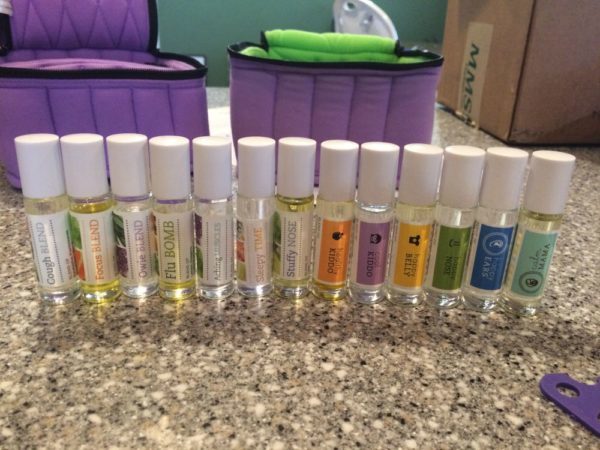 For most of our essential oil usage I make our own blends or dilute oils in rollerballs for easy application. You can easily see from the labels which ones are for adults and which ones are for children (age 2 and older).
Essential Oil Blend Recipes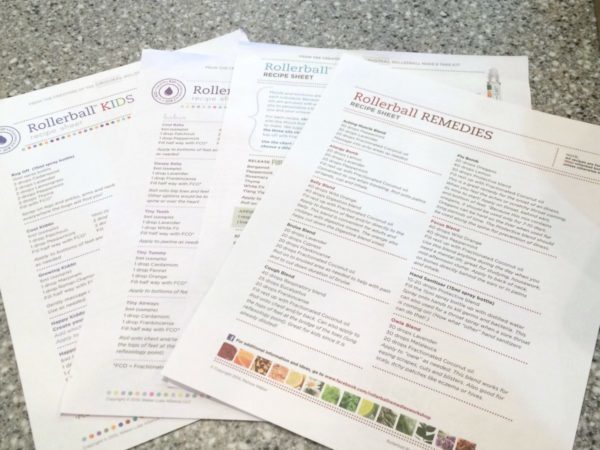 I love, no LOVE, the super simple recipes provided by Rollerball Make and Takes. They are easy to put together. If you are just getting started I would recommend buying the Rollerball Personal Bundle. It comes with recipe sheets and label sheets for each of the following: Babies & Mamas, KIDS, Wellness, and Mood series.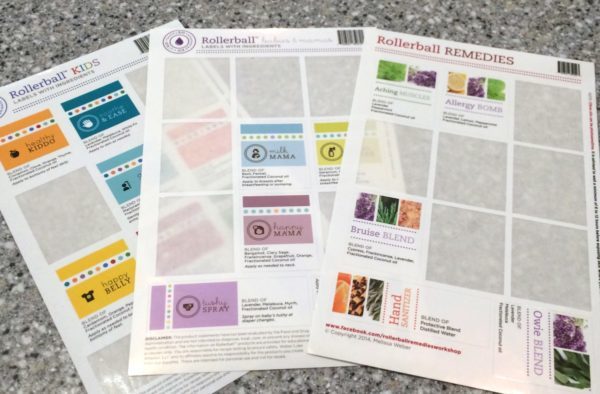 Or if you want to go cheaper just buy the labels and use the recipes provided for free off their website! You could go even cheaper and not use the labels – which I have done before – but these labels are so good. They stick really well whereas the blank labels I used before would fall off. They also tell you where to apply the oil.
The reason I like the recipes is because they are divided into adults, children, and infants. Essential oils are very potent and you have to be really careful that you don't use too much. These recipes take any guess work out of it especially for beginners.
For kids there are recipes for Happy Ears, Happy Nose, Cool Kiddo, Happy Belly, Soothe and Ease, and more. For adults there is Immune Boost, Breathe Easy, Belly Blend, etc. There are also blends for babies but use those with great caution. Also follow the recipes! You might be tempted to just use the adult recipe and dilute it more for kids but there are some essential oils that are harmful for kids and should only be used for adults.
Where I Get My Supplies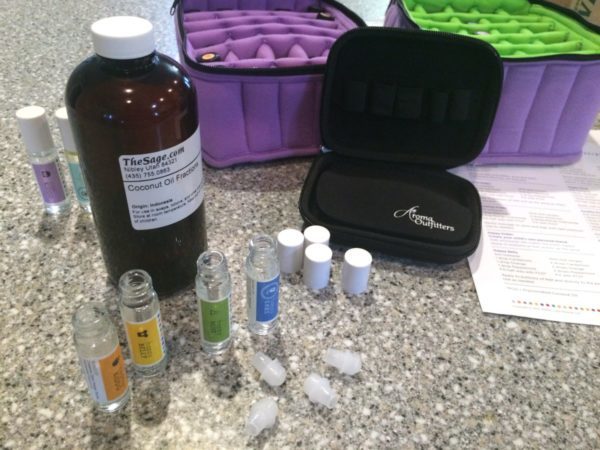 Roller bottles with lids – $9 for a pack of 10 from Majestic Mountain Sage. You can definitely find cheaper ones at Amazon but these are top quality. Never had a problem reusing them or having the rollerballs fall out.
Fractionated Coconut Oil – $10 for 16 oz. from Majestic Mountain Sage (same place I buy my lip balm supplies)
Sweet Almond Oil – $7 for 16 oz. from Majestic Mountain Sage – Almond Oil can be used as a carrier oil like the fractionated coconut oil
Essential Oils Key Tool – $5.99 from Amazon – A must if you plan on reusing your roller bottles! It takes the roller ball and cap off so you can refill your bottle.
Roller Ball Carrier Case – $10 from Amazon and holds 10 bottles. This is what I use because it is compact and easy to carry for trips. It's also great for gifts, especially if you pre-fill it with essential oil roller bottles already filled and ready to use!
What if you don't want to go through all the work to make your own roller balls much less try to purchase all the essential oils you need to make them? Rocky Mountain Oils has created a Kids Line already mixed and ready to go in roller bottles, perfect for use in kids two years old and older. You can buy individual roller bottles or buy the whole Kids Line Kit or Mom's Essential Kit.