Last Tuesday was Valentine's Day. Debbie needed to make Valentine's cookies for a church youth group meeting but didn't want to worry about frosting them or making them too "pretty." So we went super simple and they turned out delicious! And looked cute too.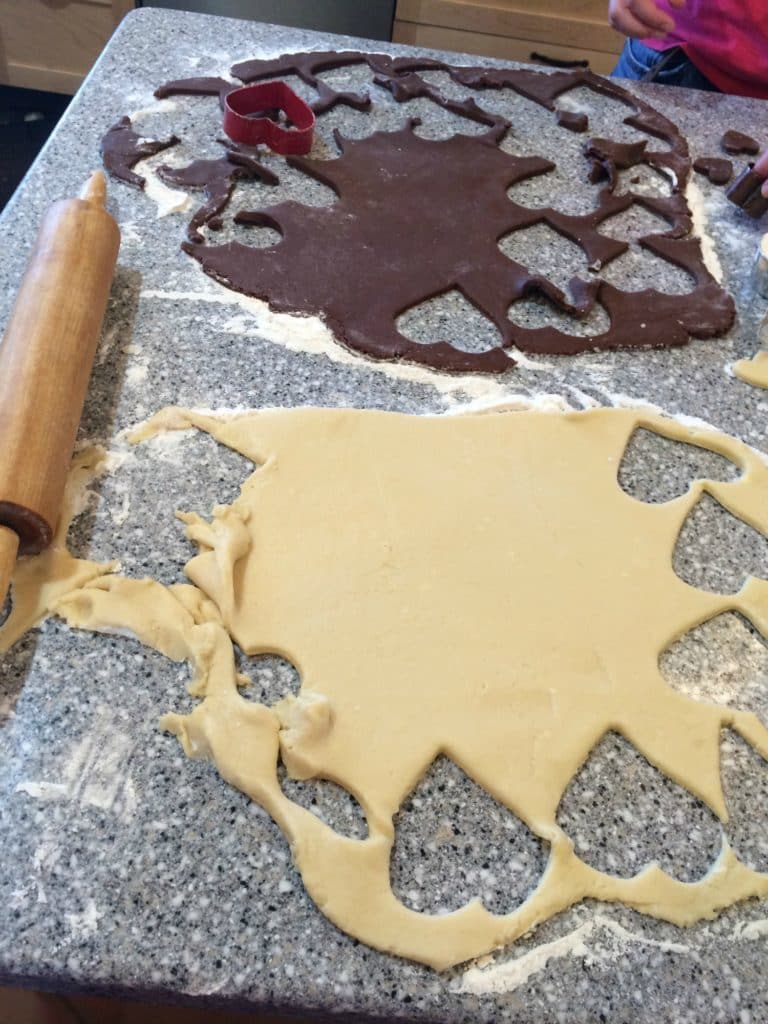 She started by making one batch each of regular sugar cookie dough and chocolate sugar cookie dough. (Recipes at the bottom of the post)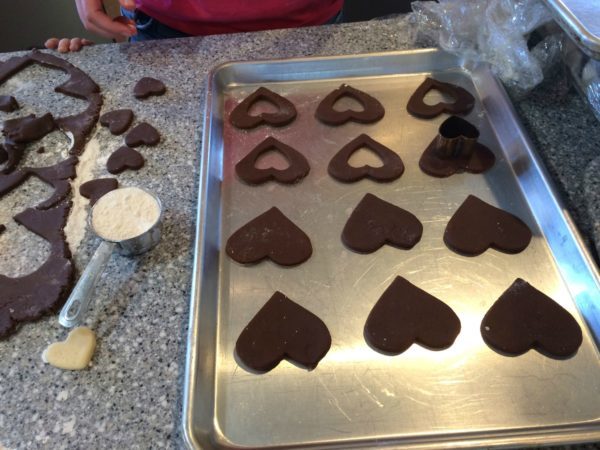 Then using this set of heart cookie cutters she cut out large hearts from each and placed them on cookie sheets. Once on the cookie sheets she cut out smaller hearts from the large hearts and just switched them.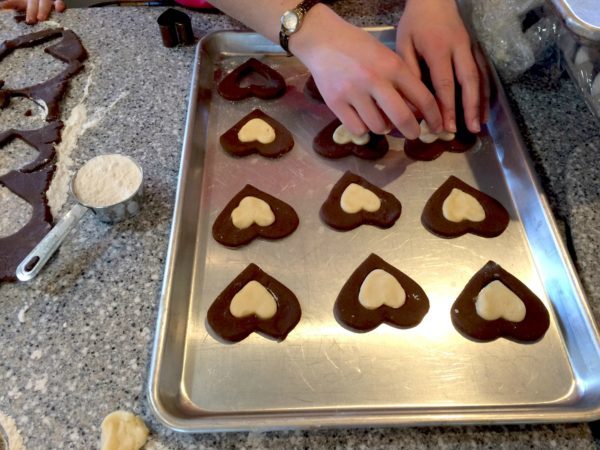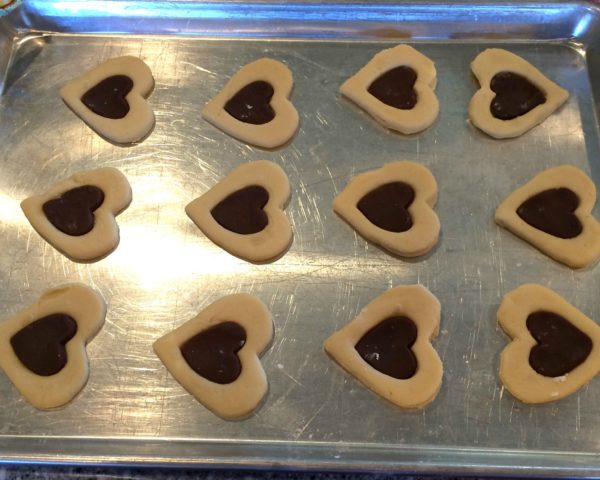 Small chocolate hearts into large regular hearts, small regular hearts into large chocolate hearts.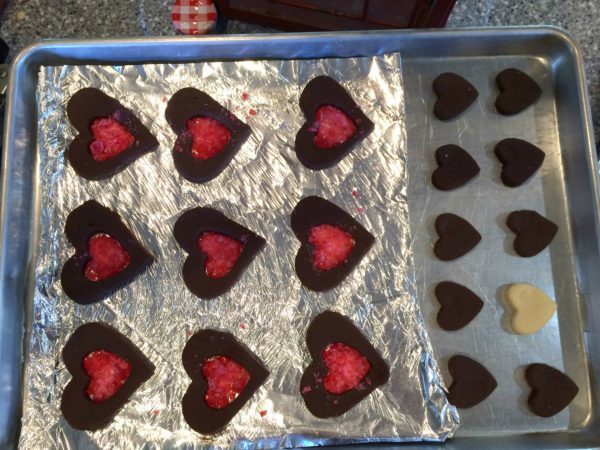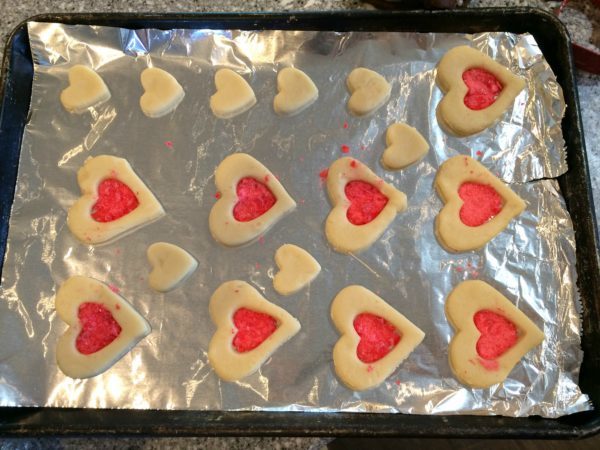 We also lined some cookie sheets with foil. Debbie cut out a smaller heart from the large hearts and sprinkled crushed up cinnamon candy discs into the heart hole. They melted as the cookies cooked to make a stained glass effect. The cinnamon flavor went really well with both the chocolate and regular sugar cookies.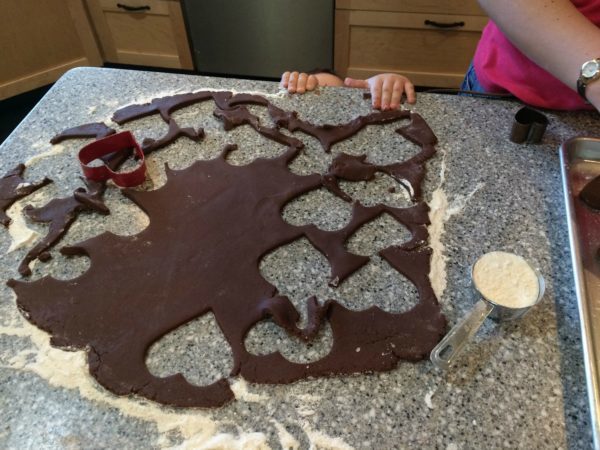 Henry tried to sneak some dough. It was pretty cute! When he thought Debbie wasn't looking he'd reach up and move his fingers around until he felt some dough and then he'd grab it and run. 😀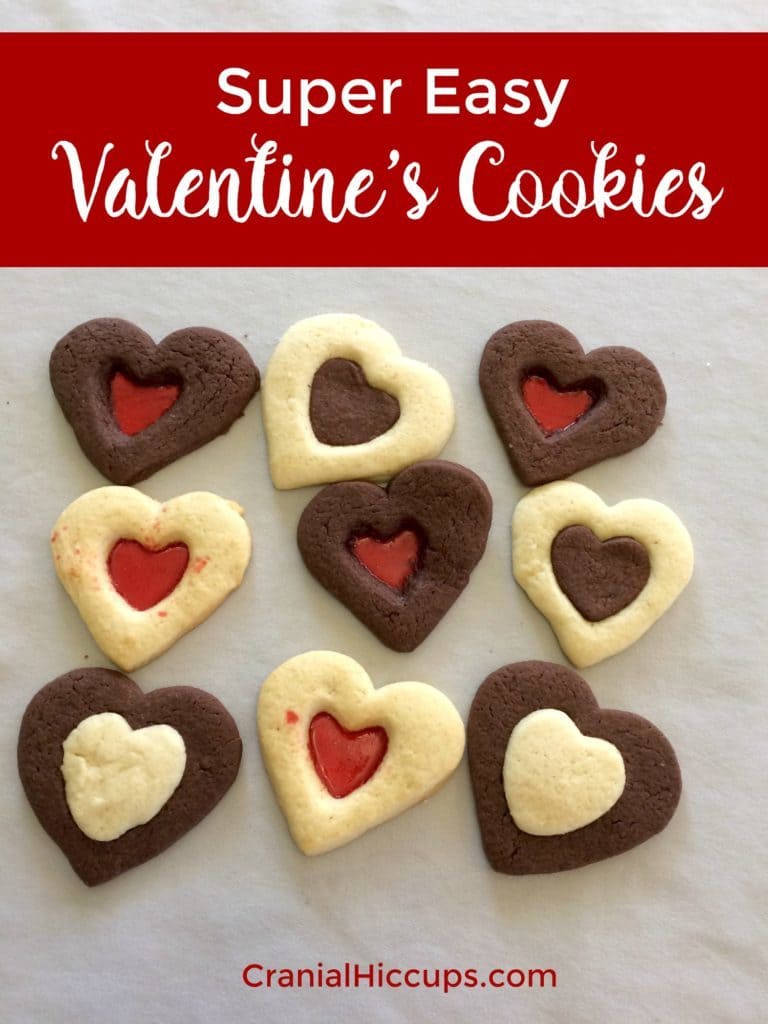 And now for the recipes!

Super Easy Valentine Cookies (With regular and chocolate Sugar Cookie dough!)
Author:
Montserrat Wadsworth
Chocolate and Regular Sugar Cookie dough make for easy Valentine's Cookies!
Ingredients
CHOCOLATE SUGAR COOKIE DOUGH
1 cup butter
2 cups sugar
3 eggs
1 TBSP vanilla
3 cups flour
1 tsp. baking powder
10 TBSP. cocoa
SUGAR COOKIE DOUGH
1 cup butter
1 cup sugar
1 egg
1 TBSP milk
3 cups flour
¾ tsp. baking powder
¼ tsp. salt
Optional cinnamon candy disc, crushed
Instructions
For both doughs follow the same directions.
Cream butter and sugar.
Add egg(s) and vanilla. Beat well for 2 minutes.
Sift dry ingredients together.
Slowly add to creamed mixture and beat until dough begins to pull away from the sides of the bowl.
Divide dough in half, wrap in plastic wrap and refrigerate at least one hour.
Preheat oven to 350 degrees.
Lightly sprinkle counter with flour. Roll out unwrapped dough with a floured rolling pin until dough is ¼ inch thick.
Cut with heart cookie cutters and placed on ungreased cookie sheets about 1 inch apart.
Using a smaller heart cookie cutter cut out the middle of each larger heart and switch the flavors - small chocolate hearts in large sugar cookie hearts and small sugar cookie hearts in large chocolate hearts.
If making stained glass cookies line cookie sheets with foil before placing cookies on pan. Cut out the middle of large hearts with a smaller heart cookie cutter. Sprinkle crushed cinnamon disc candy in the middle.
Bake for 8-10 minutes.
REGULAR COOKIES: Let cool on pans for 2 minutes before removing to a cooling rack to finish cooling.
STAINED GLASS COOKIES: Cool completely on pan before removing to a cooling rack.