Since we knew our van probably wouldn't make the long drive and back we decided to rent a van.**Story at end of post  It took so long to get the rental we didn't make it to Martin's Cove the first day like we had planned. We did enjoy driving through Wyoming. Have you ever read The Virginian? It's a great book! (The series and movies are never as good.) The setting is Medicine Bow, WY so my kids kept looking for any signs that said Medicine Bow.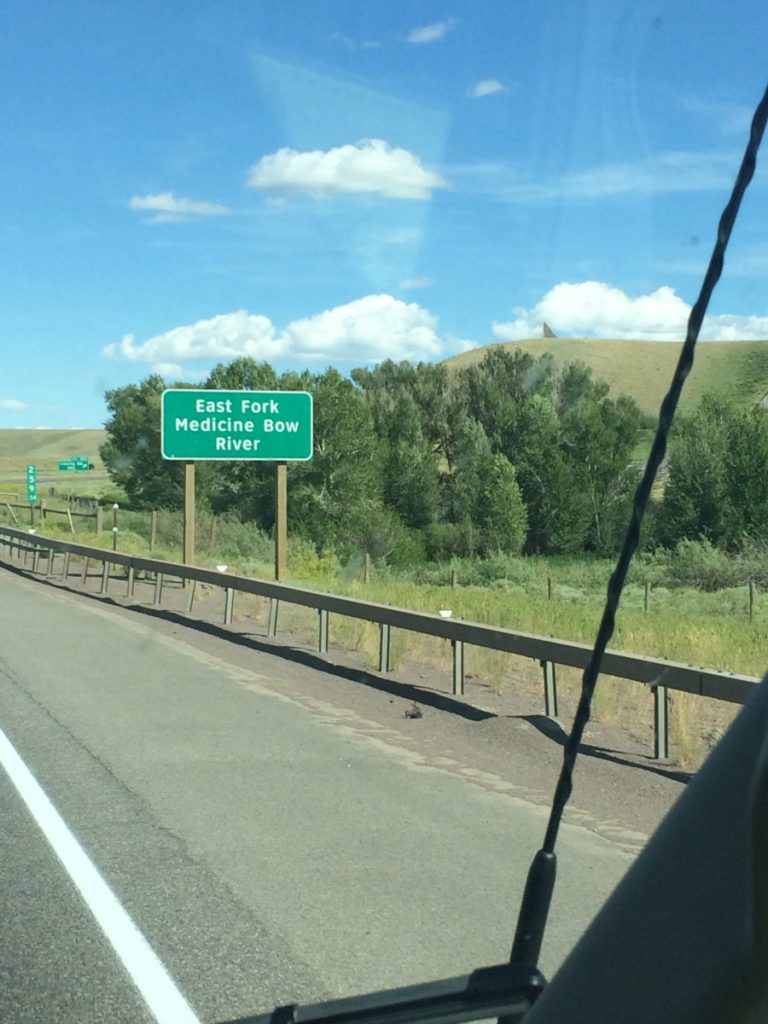 There were squeals of delight when we crossed the Medicine Bow River. We also listened to old Marty Robbins songs that mentioned Wyoming like Song of the Bandit. We made one stop at Green River, WY to make sandwiches and let the kids play for a few minutes. We spent the night in Cheyenne.
Day 2 started off bright and early. We had our free breakfast and were checked out of the hotel by 7:30. Nebraska was beautiful! Being farmers the kids really enjoyed looking at the different farms we drove by. Again we listened to Marty Robbins songs like Prairie Fire. We also stopped at one of the cutest little towns!
We stopped at Sutherland, NE to let the kids play at the park and use the rest rooms. The park was super nice and clean! There was a town celebration going on but no one was at the park when we were there. They were all lined up further down the road getting $1 hamburgers from a food truck. The reason we stopped in Sutherland was to visit the Mormon Wagon Trail Ruts that were north of town. It was just a historical sign next to the road but it was a nice break and fun to think about the Mormon Pioneers who took their wagons right through where we were standing.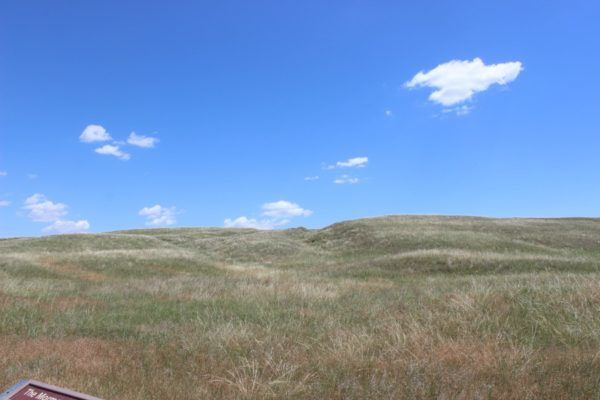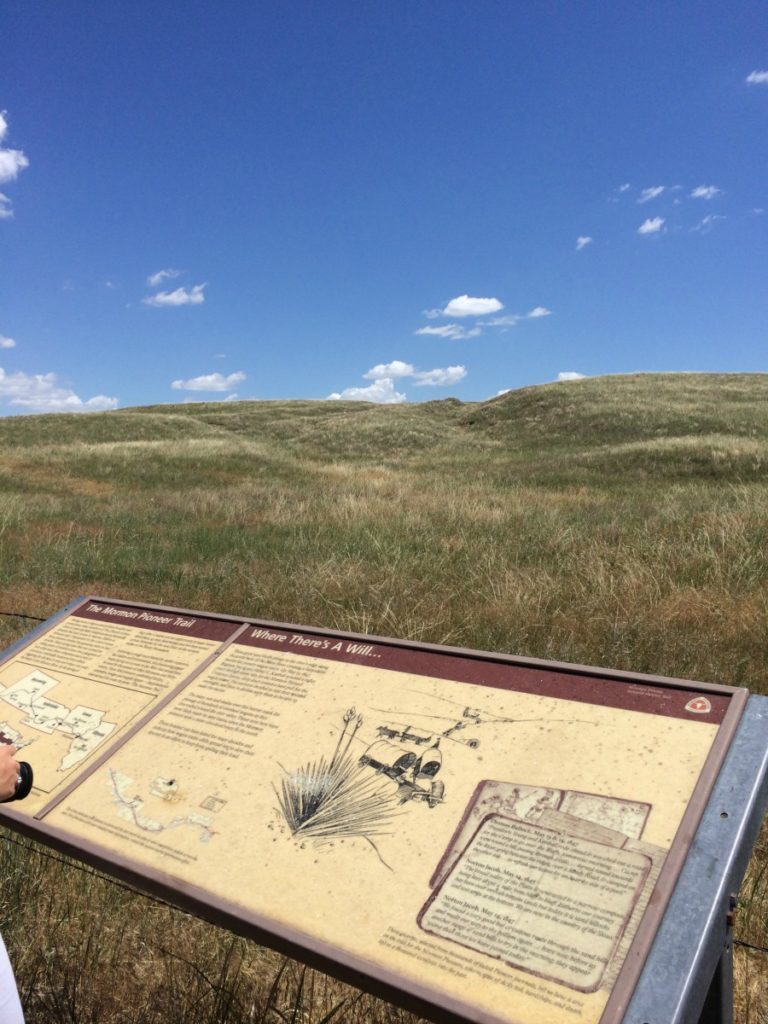 There was a farm across the road. They were baling hay when we were there and, of course, everyone was interested to see them baling round bales instead of the square bales we do.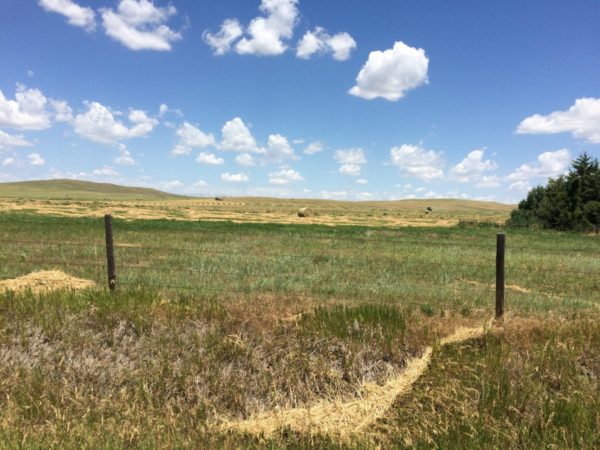 To get to the historical marker we had to cross a one lane bridge. The kids thought that was super neat. After we looked at the marker we drove down to the bridge again to look at the North Platte River.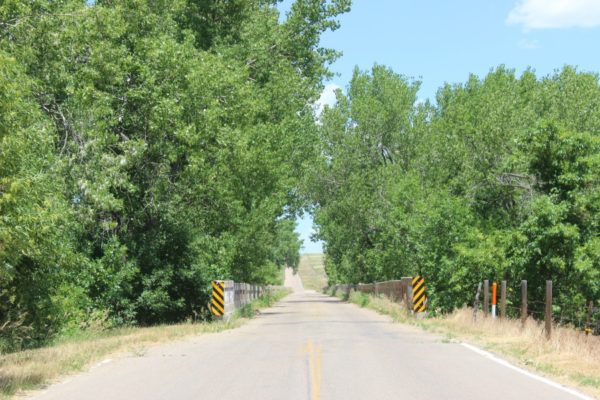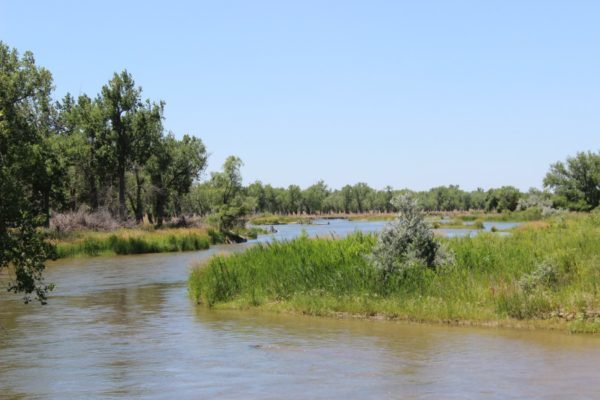 While we were stopped a farm boy (I'm guessing late teens/early 20s) stopped to see if we needed any help. He told us some history of the area and was very kind. We laughed when he drove off in his old Ford pickup. It had his family's brand branded into the wood sideboards. Farm boys seem to be the same where ever you go!
We arrived in Omaha around 6pm and decided to visit the Mormon Trail Center at Historic Winter Quarters before heading to our hotel. They had some great interactive exhibits for the kids as we learned about the lives of the early Mormons. After the death of Joseph Smith in Nauvoo, IL mobs drove the rest of the members of the church out of Nauvoo. They slowly made their way to Florence, NE and set up residence there for the winter, thus the name Winter Quarters. It would be a starting point for the West for many members for several years.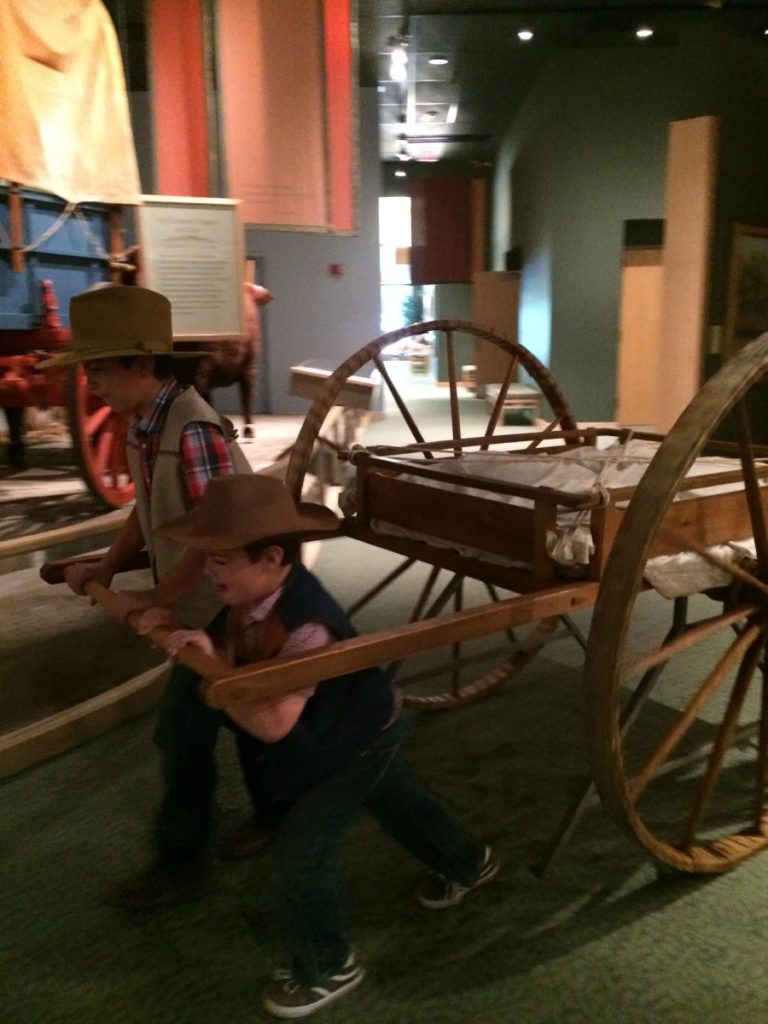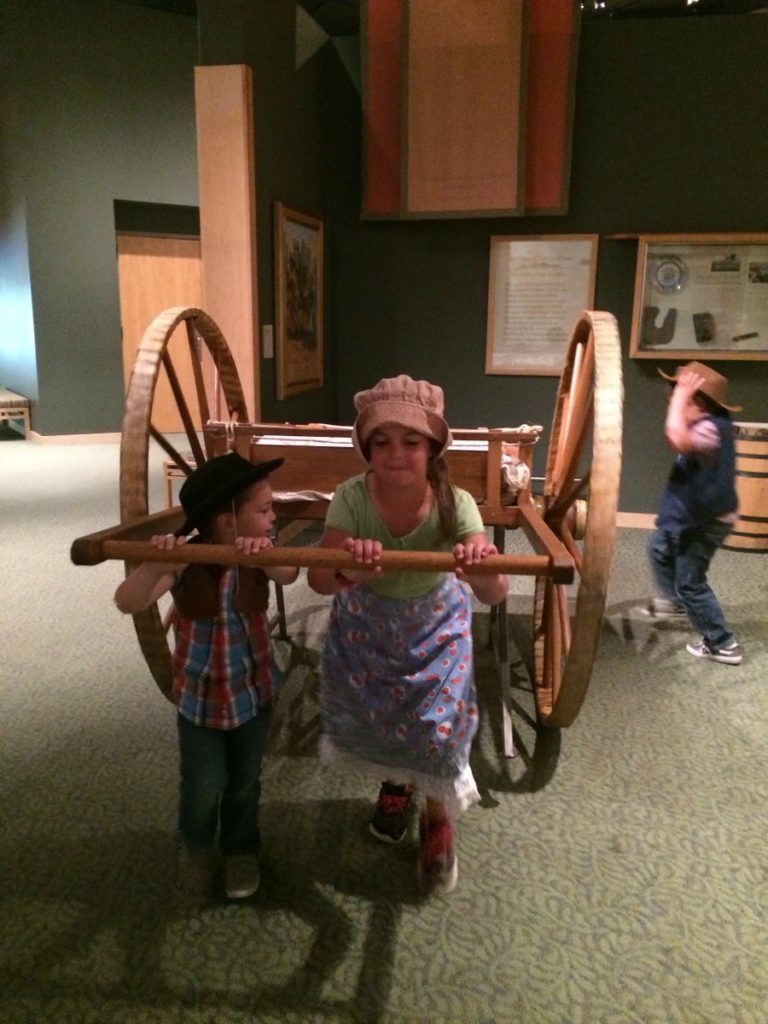 Our tour guides were sister missionaries. It was fun to talk with them and find out where they were from. After the visitor's center we walked across the street to look at the cemetery and also walk around the Winter Quarters Temple.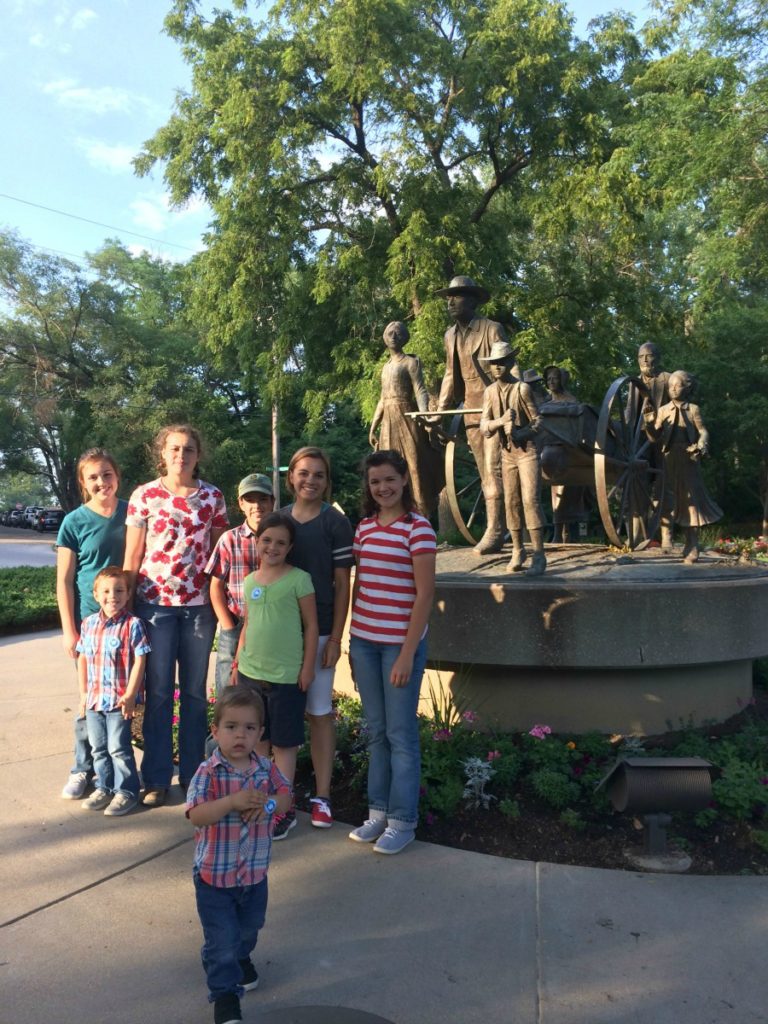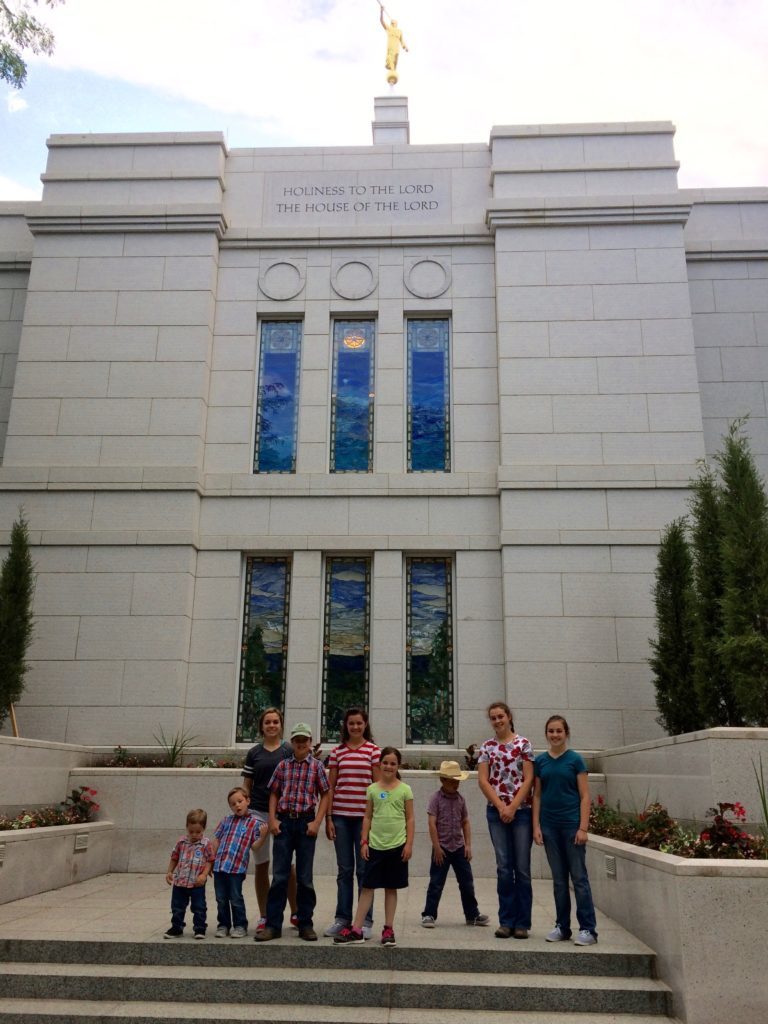 It was a wonderful ending to a long day of traveling. We spent the night in Omaha after eating some Chick-fil-a for dinner.
**DON"T EVER RENT FROM BUDGET.  I had a reservation for a van. I went to pick it up at 8am and was told it wouldn't be ready until noon. They did have a different van on the lot and asked if I wanted to look at it to see if it would fill our needs. Sara and I went to look. It was a 10 passenger Ford Transit. Just enough room to seat everyone with enough cargo space in the back for all our clothes totes. I went back into to tell them it would work and was told I had to go to the end of the line. Once I made it back up to the front of the line (it took about 30 minutes) I was told I would have to wait another 30 minutes for them to clean the van before I could take it. UGH! And then they didn't even clean it very well. We found old lollipops (the kind with scorpions inside) stuck under the back seats. GROSS!