Nope, not Star Trek. This is totally a Mormon post. If you don't know what Trek is, you probably aren't Mormon.

A bit of history. After the martyrdom of Joseph Smith in Nauvoo, IL members of The Church of Jesus Christ of Latter-day Saints were forced to flee Illinois eventually traveling across the plains to settle in Utah and other places in Idaho, Arizona and Nevada. Most traveled in covered wagons but there were some who traveled by handcarts.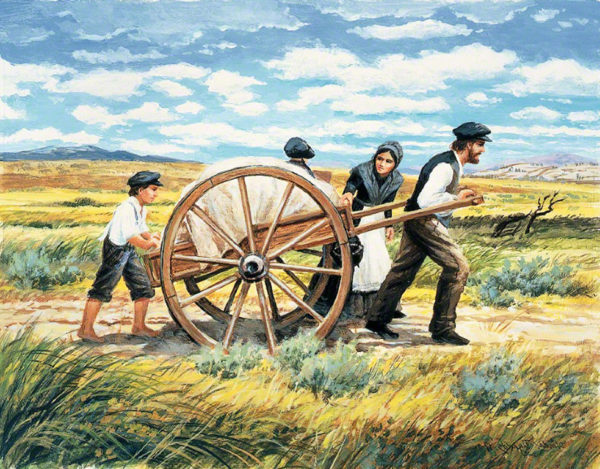 Can you imagine putting all your belongings in here and pulling it all the way from Iowa or Nebraska to Utah? Nearly 3,000 pioneers made the journey in this manner.
Trek is where the youth reenact some of the faith-building experiences of the pioneers who journeyed to the Salt Lake Valley in the mid-1800s. Youth are organized into groups or "families," wear pioneer-era clothing, pull handcarts, and discuss the faith of those who made courageous sacrifices to gather to Zion.
Since Mormons like to make movies about their history and also about their own experiences, here's the latest about "Trek."
Written by Hollywood screenwriter David Howard and Jon Enos, and directed by Alan Peterson, TREK is a family comedy that follows a group of LDS teens as they stumble their way through the sagebrush looking for their pioneer heritage as well as their own testimonies.
Watch as Tom, a young Mormon teenager and his friends try to smuggle in unsanctioned food, battle sibling rivalry, encounter a "special ops" Young Mens leader, ponder doctrinal brain teasers, and match wits with a Twinkie-loving skunk. Through all of the ups and downs, they are revealed to be "real" LDS youth who are struggling with real challenges—doubts, divorce, relationships. When they encounter unexpected trouble, their faith is tested much like their pioneer ancestors.
See? Totally a Mormon thing. I love it!
And, if you have made it this far why not enter the $50 Deseret Book Gift Card giveaway below! If it doesn't show up go here to enter.