UPDATE: I fixed the graphics so they fit on a sheet of paper now without any bits getting cut off.
Autumn is my favorite time of year. One of the main reasons is because I LOVE Thanksgiving. I think it's wonderful to celebrate all the bounteous goodness God has blessed us with. To gather round with family and friends and enjoy good food and great company. It also helps that Thanksgiving is not so commercialized as other holidays have become.
When my oldest was 4 we started a little tradition that has helped my children focus on not only being grateful but on giving as well. We call them our Thanks & Giving trees. I print off two bare trees for each child. Every evening starting November 1st we put one leaf on each tree. On one leaf we write something we are grateful for and stick it on the Thanks Tree. On another leaf we write something we have done to serve or give to others and place it on our Giving Tree. Serving can be as simple as smiling at someone, singing a song to a crying baby, sharing a toy, or writing a letter to Grandma.
Children are so attune to what is around them. They are also innocent, caring, thoughtful, considerate. I'm always amazed every year to hear what they are thankful for and what they have found to do for others. As my children grow their thankful lists have changed become more thoughtful, more mature. This simple little tradition has helped us realize how wonderful life really is. It has caused our hearts to fill with gratitude for all God's tender mercies towards us.
If you click on each image it will bring it up full size, ready for you to print and use. For leaves either cut your own from colored paper or use these graphics from the web.Hopefully your trees will be full of service and gratitude by Thanksgiving. Wouldn't it be fun to read what's on them before Thanksgiving dinner?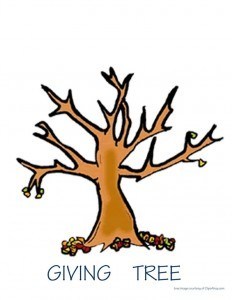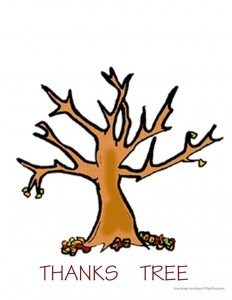 Don't forget to visit the Winter Bazaar hosted by Scribbit for other fall craft ideas.