I can't believe it's been a whole year since I was in the hospital giving birth to our seventh child. A whole year from the day we called family and friends to inform them we had a new son, only to have most of them think we were playing a practical joke. After all when you have six daughters straight in a row it was just a given we'd have another girl. Here are thirteen things about my little Special Dark:
1. His first name only has three letters. He is named after his ancestor who is pretty well known in Mormon pioneer history.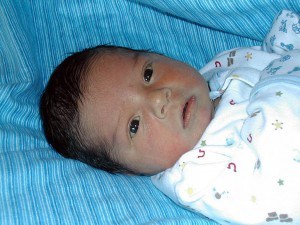 2. He loves to sleep on his stomach. As soon as we lay him down to sleep he automatically rolls onto his stomach and stays that way all night long.
3. Some of his nicknames throughout this year have been Little Man, Pedro, Buster Brown and Bubba.
4. He is a cuddler. He knows how to win over hearts by giving hugs.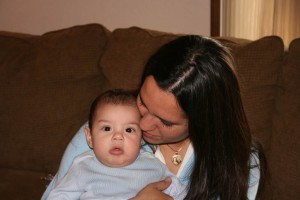 5. The girls have taught him how to spit on command.
6. Whenever music is played he begins to dance. He likes to stand and wave his arms and bend his knees. And I'll be darned if it's not in beat to the music most of the time!
7. He is very curious getting into everything. His nature is very intense. He can laugh, cry, get mad all within a minute.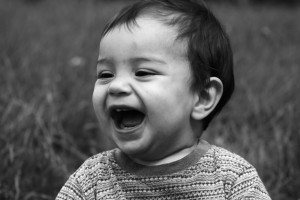 8. Diesel engines are one of his favorite sounds. When a hay truck comes through the yard he's 'trucking' it to the sliding door to see out the window and watch the truck.
9. The girls have made up a song ab0out him that they sing quite often. It's called "The Duke of the Damsels." (If you take the first letter of each of my daughters names and rearrange them it spells damsel)
10. Of course, he is spoiled rotten. And not by me but by all the girls. He is the center of attention most of the time and knows how to ham it up.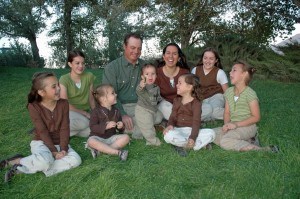 11. He is just learning to walk, taking about 5-10 steps at a time. If no one is there to clap and cheer him on, he'll clap and cheer for himself.
12. Surprise, surprise his favorite little snack is chocolate chips or M&Ms. I wonder where he gets that from?
13. When he sees a pistol, rifle, or shotgun he immediately makes gun sounds, not the usual "bang, bang" but will try to imitate a real gun shot with a "picshew" type of sound.
**********************************************
Thursday Thirteen: The purpose of the meme is to get to know everyone who participates a little bit better every Thursday.