In 2007 I was asked to start a Family Home Evening Enrichment group at church. We met once a month and put together family home evening lessons. It was loads of fun but also loads of work. One of the projects I tackled was coloring most of the scripture flannel board stories that have been published in The Friend magazine over the years. I've decided to start sharing them online so whoever wants to use them can benefit from them as well. All of the stories both texts and pictures are property of The Church of Jesus Christ of Latter-day Saints. They are free online for use in your home or at church. They are however in only black and white drawings. So I used my paint program to color them on the computer. I will post three stories a week until they are all posted. Each one will be in a different post and will be linked here creating a master link list to all of them.
If you prefer to color your own I will also provide the link to the original flannel board story in each post. Or you can visit The Activity Closet for a master link list to all the original stories. Saves time trying to do a search on the church website.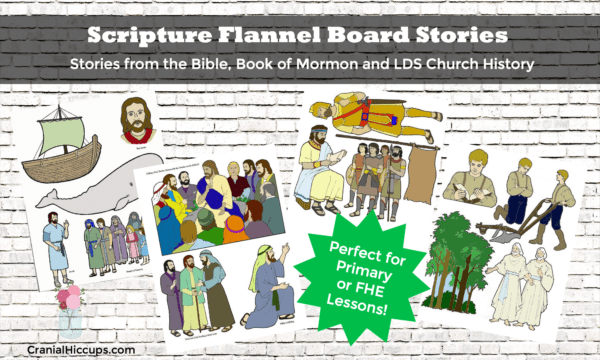 I have upload these flannel board stories as zip files. If you want all of the scripture flannel board stories instead of just a few these zip files are the way to go! These are large files so it will take a while to download. You DO NOT need to download any extra software or have a dropbox account to access these.
Book of Mormon Flannel Board Stories
Church History and Other Topics Flannel Board Stories
New Testament Flannel Board Stories
Old Testament Flannel Board Stories
Usually I print the stories out on cardstock, laminate them, then stick the hook part of sticky backed velcro on the back of each piece. Sarah at a little of this, a little of that has written a wonderful tutorial on how to make your flannel board story pieces out of fabric. You can read it here, Felt Figure Fun. (thanks, Sarah!)
Enjoy!
Old Testament Stories
Abraham Covenants With the Lord
The Creation
Daniel and King Nebuchadnezzar
Enoch Builds Zion
Esther Saves Her People
Isaiah Prophesies of the Savior
Jonah & the Whale
Joseph "Holds to the Iron Rod"
Josiah Believer in the Scriptures
Moses Teaches His People
New Testament Stories
Baptism of Jesus Christ
Calling of the Twelve Apostles
Christ's Life on Earth
The Good Samaritan
The Good Shepherd
Jesus Christ Heals a Blind Man
Jesus Christ Will Come Again
The Good ShepherdThe Last Supper
Our Savior and Redeemer
Saul's Conversion
Special Witnesses – The Apostles
The Wise Man & The Foolish Man
Book of Mormon Stories
Alma Teaches & Baptizes
Ammon's Example
Army of Helaman
The Brother of Jared Sees Jesus
Captain Moroni
Covenants at the Waters of Mormon
Enos and the Power of Prayer
Jacob and Sherem
Jesus Christ Comes to America
King Benjamin
Lehi Obeys God
Moroni Writes of God's Marvelous Works
Nephi Obtains the Plates
The Nephite Disciples Baptize
The Nephites Learn of the Sacrament
Samuel the Lamanite
Stripling Warriors
Church History and Other Topics
Baptism (Age of Accountability)
His Servants The Prophets
The Holy Ghost Will Help Me
Joseph Smith & the Book of Mormon
Joseph Smith's First Vision
Plain Words About Baptism
Priesthood Blessings
The Resurrected Christ Teaches About Baptism
The Sacrament