This recipe works well for me. When done right the crust is very soft, the texture is fine, and it holds together well for sandwiches. As with all bread, practice makes perfect!
Honey Whole Wheat Bread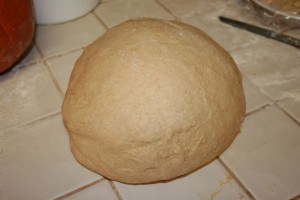 4 TBSP Yeast
1 TBSP Sugar
2 1/2 cups warm water
2 cups milk
1 cup honey
2/3 cup canola oil
2 TBSP salt
12-15 cups whole wheat flour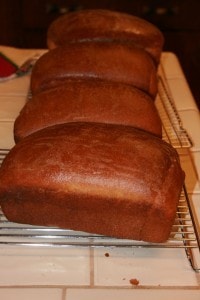 In a large mixing bowl dissolve yeast and sugar in warm water. Heat milk and honey in a saucepan until warm but not hot. Add to yeast mixture. Add oil, salt and 4 cups flour. Mix until all flour in incorporated. Add 4 more cups of flour; mix well. Add 4-6 more cups of flour one cup at a time, until dough is not sticky, but smooth. I usually add exactly 13 1/2 cups total flour every time. Knead for several minutes and place into a greased bowl. Cover and let rise for 45 minutes. Punch dough down and shape into 4 loaves. Place into 4 greased loaf pans and let rise for 20 – 30 minutes or until tops of bread are only one inch taller than pans. Bake in a preheated 350 degree oven for 25  minutes. Turn off oven and let the bread sit in the oven for another 5-10 minutes. Take out of pans and brush tops with butter.