When I went away to college my parents made sure I had two things: a bread machine and a pasta machine. I grew up with the tradition of making homemade ravioli every Christmas day. We'd take turns rolling out the pasta dough on our pasta machine. Now I love to make homemade noodles, especially for chicken noodle soup, with my children taking their turns at rolling the dough through the same machine I received over fifteen years ago.
Here's the recipe I use for perfect homemade noodles.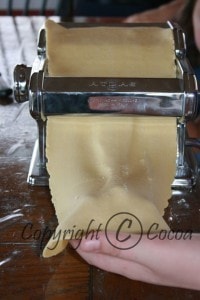 2 cups flour
3 eggs
pinch of salt
I put it all in the food processor and blend for at least 3 minutes. The mixture will still look a little crumbly but if you squeeze some together you'll find it forms a nice ball.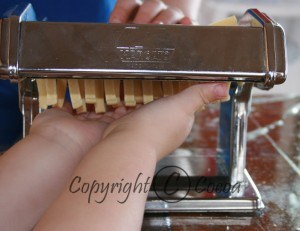 You can roll this dough out by hand using a rolling pin. I've done it plenty of times before. It just saves so much more time and you have a more consistent thickness if you use a pasta machine.
Cook noodles in a pot of boiling water for about 5-7 minutes.