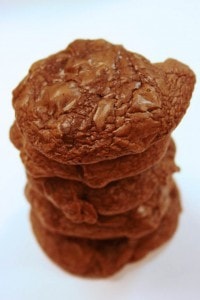 Every once in a while I get a craving for a really decadent, over-the-top, yummy chocolaty goodness. These cookies fit the bill. They are oh-so good dipped in a tall glass of milk. The best part? For every 1/2 teaspoon of flour there are two teaspoons of chocolate. Oh, yeah baby. This recipe comes from my much used, well-beloved Death By Chocolate Cookies by Marcel Desaulniers.
Black Gold Cookies (makes three dozen cookies)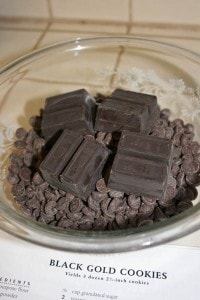 6 tablespoons all-purpose flour
1/2 teaspoon baking powder
1/2 teaspoon salt
10 ounces semisweet chocolate, chopped into 1/4-inch pieces, divided
2 ounces unsweetened chocolate, chopped into 1/4-inch pieces
6 tablespoons unsalted butter
2 large eggs
1/2 cup granulated sugar
2 teaspoons vanilla
Preheat oven to 325 degrees.
Sift together flour, baking powder and salt. Set aside.
In a double boiler that is set over medium heat stir together 6 ounces semi-sweet chocolate, the unsweetened chocolate, and butter until completely melted and smooth. Set aside until needed.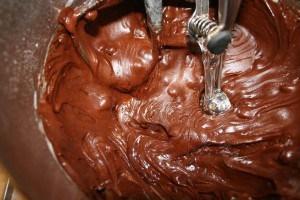 In a mixer bowl beat together eggs, sugar and vanilla. Add the melted chocolate and mix until incorporated. Scrape down sides of bowl. Add the flour mixture and remaining 4 ounces semisweet chocolate and mix on low until just incorporated.
Place heaping tablespoons of dough on ungreased baking sheets. Bake for 9 to 10 minutes. Allow cookies to cool to room temperature on the baking sheets. YUM!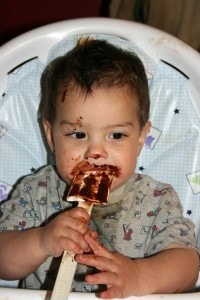 (A chocoholic in training)