Before reading this post I recommend reading the previous posts in this series:
Customizing Your Blog – Part 1 Gathering Patterns and Colors
Customizing Your Blog – Part 2 HTML Code
Customizing Your Blog – Part 3 Fonts
Customizing Your Blog – Part 4 Creating a New Header
Customizing Your Blog – Part 5 Adjusting Columns and Margins
Customizing Your Blog – Part 6 Adding a Signature and Personalizing Comments
**************************************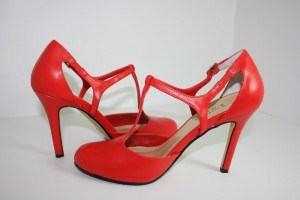 Okay, I know I said in the last customizing post that I would show you how to create a navigation bar like I have under my header. Well, guess what? It's a lot harder to tell you how to do it than I thought it would be. Not that it's hard to create one just I'm not very good at explaining things sometimes. So I went scouring the internet and found a great site that has answers to any questions you may ever have on customizing you Blogger blog.
Dum, dum, da dum! Presenting Tips for New Bloggers. Their posts are pretty easy to follow and I learned a few new tricks just by browsing through their archives.
So here's a link to their instructions on creating a navigation bar.
Whew! That's just made my life so much easier. I really was starting to stress about this!
And what do the red 3 inch high heel shoes have to do with this post? Absolutely nothing. Amber wanted to see a picture of them. I lurve them!