My aunt Nancy tagged me for a meme that I've already done here. So I thought since she likes photography I'll tag her back with this meme Lola posted on her blog.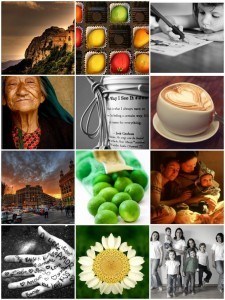 1. Monasterio de Montserrat (HDR), 2. I ate 6, 3. .a glimpse into our day., 4. Beautiful old lady from Darap(Sikkim) village, 5. the way i see it #268., 6. NYC | Hug Mug, 7. Plaça Catalunya – Barcelona HDR, 8. Class With Daves- "Green", 9. family love, 10. Love XOXO, 11. The cheerful daisy, 12. Me and my brood
a. Type your answer to each of the questions below into Flickr Search.
b. Using only the first page, pick an image.
c. Copy and paste each of the URLs for the images into fd's
mosaic maker
. Choose 3 columns with 4 rows.
The Questions:
1. What is your first name?
2. What is your favorite food?
3. What high school did you go to?
4. What is your favorite color?
5. Who is your celebrity crush?
6. Favorite drink?
7. Dream vacation?
8. Favorite dessert?
9. What you want to be when you grow up?
10. What do you love most in life?
11. One Word to describe you.
12. Your flickr name. (kid version: favorite animal?)
I'd also like to tag the following:
Sonja @ Wonder Years
Mrs. O @ Positively Organic
Jen @ Lords of the Manor
Jennifer @ Infinity More Monkeys
Amber @ The McIllece Spot