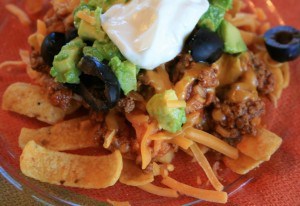 This is similar to a taco salad but with a different taste to it. The girls first had this a few weeks ago when they went to Fallon and stayed with Grandma while Mr. Ferrero Rocher and I spent the day in Reno. They raved about it and we've had it two more times since then. The recipe is from Winifred Jardine of the Deseret News. It must be from a long time ago because it's not in their recipe collection online.
Mexican Hay Stacks
Brown:
1 pound hamburger
1 medium onion, chopped
1 clove garlic, minced
Add:
3 1/4 cup water
1 8 oz. can tomato sauce
1 6 oz. can tomato paste
2 tsp. sugar
1 tsp. oregano
1 tsp. cumin
1 tsp. chili powder
2 tsp. taco seasoning (opt.)
3 dashes Tabasco Sauce
1/4 cup uncooked rice
Cover and simmer for 20 minutes until rice is done. Stir to keep from burning at the end.
Serve over Fritos
Toppings: sour cream, cheese, onion, avocado, tomato, etc.