One more weekend to go before we start school! Packages have been arriving all week. The girls have been oohing and aahing over their new schoolbooks and workbooks. I've been busy making copies, tearing apart their new workbooks, and organizing the coming school year. It has been a blast!
We don't do well with a set day-to-day schedule but we do need some type of a plan to keep us on track to complete everything by the end of the school year. Meet our new friend.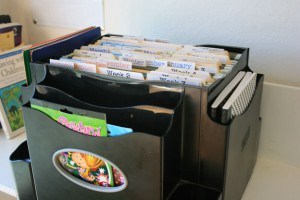 This gal is loaded with math worksheets, unit study items, lapbook foldables, history pocket copies, etc. Here's how I've organized it all.
Each season and month has its own hanging file with the months filed behind the appropriate seasons. Each month then has weekly folders. I filed the worksheets and other items in the weeks I wanted them done. Seasonal activities are filed in the season folders. I looked at the calendar to determine which unit studies or lapbooks to do to correlate with the various holidays or special days we want to observe and then filed them in the week leading up to that holiday. Now we won't forget to celebrate Nacho Day (read this hilarious post my cousin wrote about my Mexican grandfather) or National Cocoa Day (December 13)!
Each child also has their own hanging file to keep track of papers they want to keep. Bon Bon's and Semisweet's have files for each subject because they are required to send samples of their work once a month. These files will hold the samples until it is time to send them off.
Just a few more copies to make and file and then I am done! I'll be very relieved when that happens.