Last week was rather wretched for us. What with running into town several times for doctor visits, blood work and all the emotional and physical ups and downs that accompany a miscarriage (11 weeks along this time) our school work was the bare bones. Essentials were accomplished but not much else. On Wednesday I decided we needed something a little more cheerful to brighten our day. We followed Eric Carle's instructions for creating collages. It was so much fun! We made a huge mess painting the paper with acrylic paint in preparation for the collages. It's a good thing we have plastic covering our table to protect it!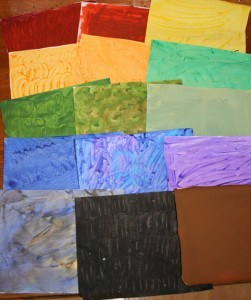 The original instructions were to paint tissue paper however the girls kept ripping theirs so we opted for the sturdier typing paper. We used different sized brushes drawing them across the paper to produce different textures. When the paint was dry the girls drew various ideas for collages choosing a few to try. We used regular white glue (Elmer's) to glue everything together.
Brownie made an awesome butterfly.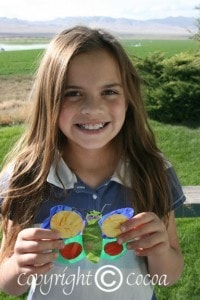 Truffle did a really good job with her self-portrait and a lightning bug.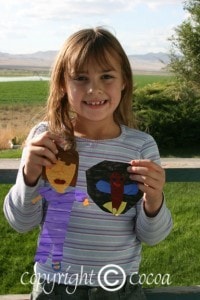 Cookie wanted me to make apples in a basket for her. Fudge did a really cute caterpillar but gave it away before we could take a picture of it.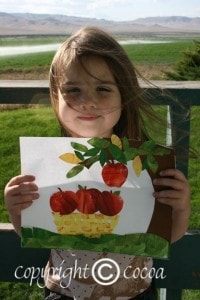 This is definitely a project we will do again! The brush strokes left on the paper added new dimensions to the projects. We might try colored tissue paper but without the brush strokes I don't think they will turn out as well. Thanks to Meg for her inspired idea!