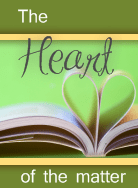 The question this week from the Heart of the Matter is: Halloween or Fall? How does your family celebrate?
Growing up my family LOVED celebrating Halloween. I remember my dad making a haunted house for the trick-or-treaters in the old barn/shed behind our house in Salt Lake. Later when I was about 10 my dad helped me become the Bride of Frankenstein for a school Halloween contest. He had me lay upside down on the couch so my hair was hanging down. He blow dried it then used several cans of hair spray to make it stand up straight. A nice white streak was then sprayed into my hair. It was very cool. We had parties, monster mashes, and just plain old fun.
I'm rather a bit sad I don't do so much with my own kids. The biggest reason is how far we live out of town. It's just not worth it to get all gussied up, drive for over half an hour just to walk around begging for candy then drive all the way back. My children all love to dress up so it's a good thing our bookmobile librarian gives a Halloween party every year. The best part? The bookmobile comes straight to our house! I love helping my kids come up with fun costumes and silly treats to share at the party.
We do enjoy celebrating fall. Decorating the house, lighting spicy scented candles, carving pumpkins, baking goodies, nighttime campfires, and our favorite tradition – Thanks and Giving Trees. Each child has two trees, one labeled Thanks and the other Giving. Each evening before family prayers we each cut out a leaf, write something we are thankful for on it, and glue it to the Thanks tree. On another leaf we write one thing we've done to serve or give to others that day. This leaf goes on the Giving tree. By Thanksgiving our trees are full of leaves. We spend the evening reading what each person is thankful for and what they have done to help others that month. Click on the link above to read more about it and also download a pdf file with the trees and leaves.
How do you celebrate fall?