Service.
What do you think of when you read that word? A soldier serving his country, a policeman or firefighter giving aid, a volunteer at a soup kitchen, the neighbor who brings over a meal in time of need, a mother who tends to her family day in and day out, a child who offers a hug? There are so many opportunities we each have to serve others around us each day. No act is too small.
Often times I run into the trouble of when to help, where to help, what to do to help. There are so many heart breaking stories that others are going through. You can't contribute to all but you hate to turn anyone who is truly in need down.
Today I want to tell about two women bloggers out there who have need of help at the moment. I know you've heard of both their stories. News of their tragic circumstances has spread like wildfire throughout blogland. Initially support for these women has been tremendous but as time wears on we tend to forget and so traffic to the various sites set up to help them begins to definitely slow down.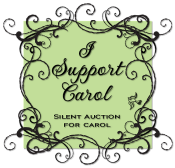 Carol Decker had an emergency C-section on June 10, 2008. After the surgery she developed life-threatening hypotension from a septic pneumonia infection. After fighting for several weeks, the medicine she was on to save her life had the unfortunate side effect of blocking blood flow to her legs, left arm and eyes.
Since then, Carol has had both legs below the knee amputated, her left arm amputated and she is blind. She is currently undergoing inpatient rehab. An auction site has been set up to help raise money to cover the immense medical costs that their insurance will not cover. A variety of items are auctioned off each week. Currently there are two items from one of my etsy shops being auctioned off. Another one will go up later this week or early next week.
Who hasn't heard of Stephanie Nielson? Her Nie Nie Dialogues have inspired so many women to enjoy their roles as mothers. Nie's sister C Jane continues to keep readers updated on Stephanie and her husband, Christian's, conditions after they survived a plane crash but with massive burns over their bodies. Christian is now in rehab while Stephanie remains in critical condition in a medically induced coma. Both Christian's and Stephanie's large extended families have stepped in to help care for their four children while they are hospitalized. The medical expenses though will be astronomical. We're speaking millions of dollars. There were several HUGE auctions set up after word of their plight spread. You can check out any further auctions and read more about their recovery at Nie Recovery.
Thee lift me and I'll lift thee and we'll both ascend together.
~John Greenleaf Whittier~