I was beginning to think I'd never get this posted. Our power has been on and off all day. Looks like it's finally on to stay.
I began making gingerbread houses when I just had Bon Bon and Semisweet. It has become a tradition we all look forward to every year. It is always a blast!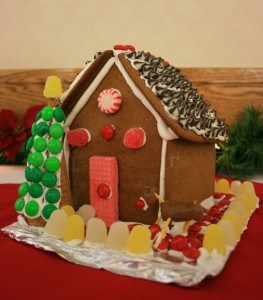 Here's the template I made up years ago. The house is just big enough to decorate with plenty of candy but not so big I have gingerbread dough coming out of my ears and I'm baking for half the day.
Gingerbread House Template (small) pdf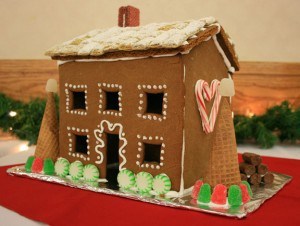 I made up the template I used for my house this year. But thanks to Calandria I found out Bob Vila has one already done up in a very similar colonial style. He also has basic instructions for putting a gingerbread house together and several templates for other styles of houses here. I was going to crush up hard yellow candy (jolly ranchers) and sprinkle it in the windows to bake when I cut out the front of the house but ran out of candy. That would have been a neat stained glass effect. If you do that make sure to bake your dough on a foil lined baking sheet for easier removal of the house piece off the pan.
Here's my favorite gingerbread cookie recipe. I cut it out of a Martha Stewart magazine years and years ago. Each recipe of dough will make about 4-5 houses. I make the dough, cut out and bake the pieces the day before our decorating day, and let them sit out overnight to harden up. Each child gets their own to decorate when they turn three. I give them each their own small ziploc sandwich bag with a corner snipped off filled with royal icing and let them have at it.
Gingerbread Cookies

1 cup margarine, softened
1 cup brown sugar
1 cup molasses
5 cups flour
2 tsp. baking soda
2 tsp. cinnamon
2 tsp. ground ginger
1 tsp. salt
1/2 tsp. ground cloves
Cream together margarine and sugar. Add molasses and mix well. Sift together dry ingredients. With mixer on low speed slowly add dry ingredients and 1/2 cup water to molasses mixture. Mix until smooth. Divide dough into two equal pieces. Flatten each piece into a rectangle. wrap with plastic wrap, and refrigerate for 1 hour. On floured surface roll out dough to 1/4 inch thickness. Cut with cookie cutters or use template to make gingerbread house pieces. Bake at 350 for 10-15 minutes. Transfer to wire rack to cool. Makes 4 dozen cookies or 4 gingerbread houses.
Royal Icing
3 TBSP. meringue powder*
4 cups confectioner's sugar
7 TBSP. water
Beat with electric mixer for 7 minutes or until stiff peaks form. If icing is too thick add 1 tsp. of water at a time until you get better consistency. I usually end up making three batches of this so there is enough for everyone.
* I buy the Wilton's Meringue Powder that comes in a can in the cake decorating aisle.
Tips:
♦ I cut up old boxes and cover the pieces with foil to put our houses on.
♦ Assemble the house first and let set for about 15 minutes so the icing has time to harden a little before decorating your house.
♦ Use your imagination to find candies, cookies, cereal, and other edible goodies for your house. We use sugar cones turned upside down for trees, shredded wheat for snowy rooftops, tootsie rolls for a pile of logs outside the house, swirled chocolate chips, gumdrops, red hots, M&M's, candy canes, wafer cookies, the possibilities are endless.
♦ Don't stress! Letting each child have thier own to decorate however they want is part of the fun. I love seeing the uniqueness of each house each year. It does get messy but that's okay!
♦ Make extra house pieces to use in case someone does happen to break one of theirs. Honestly we've only ever had three pieces break in the 10 years we've been doing this.
♦ Invite friends over for a grand party! Brownie's birthday is December 18. For her eighth birthday we had 12 kids gathered round the table making their own gingerbread houses. It was so much fun!