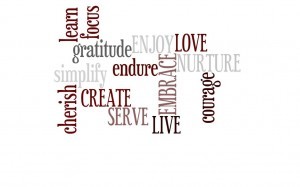 I don't do New Year's resolutions. Instead I have an ever replenishing list of goals that I am constantly working on. They get crossed off, shuffled around, reevaluated as I slowly progress on my lifelong journey of self-improvement.
This past year held many challenges and changes, joys and sorrows, but as is always the case hindsight has proved each to be a blessing. The growing pains – mentally, emotionally, and spiritually have been hard and painful at times but the tender mercies from the Lord have helped me to carry onward and upward. I have much to be grateful for.
As I turn my focus to this year I have decided to join the One Word movement started on Ali Edwards's blog.
"Can you identify a single word that sums up what you want for yourself in 2009?
It can be something tangible or intangible. It could be a thought or a feeling or an emotion. It can be singular or plural. The key is to find something that has personal meaning for you. This is not your mother's word or your spouse's word or your child's word – this is YOUR word.
One little word can have big meaning in your life if you allow yourself to be open to the possibilities. And here's one thing that is totally interesting: sometimes a word will pop into your brain and it will not make any sense to you right now. Give it some time. Let it percolate a bit. I have often found that our hearts speak to us in very unique ways. Maybe this is a word you need to hear but just aren't ready for it yet. Again, be open to the possibilities." life art newsletter jan. 3 2007
The wordle at the top of this post is a list of all the words that popped into my mind when I began thinking about this. I've finally narrowed it down to CREATE.
I want to create:
♥ memories with my family
♥ an abundance of love
♥ order in my home
♥ a new kitchen and dining room addition
♥ traditions
♥ a simplified life
♥ a children's book (finally attempt to anyway)
♥ a sewing area
♥ a healthier, lighter me
♥ fun
♥ a deeper spiritual relationship with God
I plan on posting this word here and there throughout my house to keep me inspired.
What word would you choose?