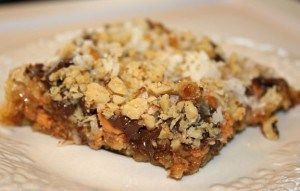 Mmmm…..this bars are deadly. They make me sick every time, I eat so many of them. They are one of Semisweet's favorite things to make. She even won $75 and grand champion at the county fair with these bad boys.
Chewy Rocky Road Bars
1 1/2 cups finely crushed unsalted pretzels
3/4 cup butter or margarine, melted
1 can (14 oz.) sweetened condensed milk
2 cups miniature marshmallows
1 cup butterscotch chips
1 cup semisweet chocolate chips
1 cup sweetened coconut flakes
3/4 cup chopped nuts
Heat oven to 350 degrees. In a small bowl, combine crushed pretzels and butter; lightly press mixture into the bottom of a 13 x 9 x 2 inch baking pan. our sweetened condensed milk evenly over the crumb mixture. Top with marshmallows, butterscotch chips, chocolate chips, coconut, and nuts. Press toppings firmly into sweetened condensed milk. Bake 25 to 30 minutes or until lightly browned. Cool completely in pan on wire rack. Cut into bars. Makes about 24 – 36 depending on how you cut them.