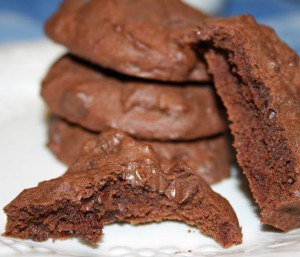 When we don't have the time to make the more gourmet Black Gold Cookies we make these Chocolate Quickies. As the name implies, they are quick to make and oh so chocolatey! They are also very quick to disappear.
Chocolate Quickies
2 cups flour
1/2 cup unsweetened cocoa powder
1 tsp. baking powder
1 tsp. salt
1 cup unsalted butter cut into small pieces
1 cup granulated sugar
3 large eggs
1 TBSP. vanilla
2 cups semisweet chocolate chips
Preheat oven to 350 degrees. Sift together flour, cocoa, baking powder, and salt. Set aside. In a large mixing bowl beat butter and sugar for 3 minutes until soft. Add eggs and vanilla and beat well. Scrape down sides of mixing bowl. Beat mixture again for another 2 minutes. With mixer on low slowly add the flour mixture and chocolate chips. Mix until thoroughly combined. Drop by tablespoonfuls onto ungreased cookie sheet. Use your fingers to slightly flatten each dough portion. Bake for 8 – 10 minutes. Remove from oven and let cool on pan for 2 minutes. Remove cookies to a wire rack to finish cooling. Makes about 3 dozen.