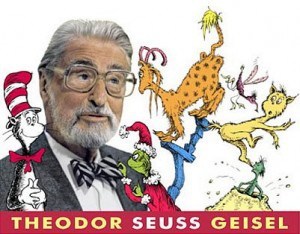 Read Across America Day is March 2nd, the anniversary of
Dr. Seuss's birthday
. I don't think I've ever met anyone who
hasn't
read a Dr. Seuss book. Beginning readers enjoy the easy words, fun rhymes and silly illustrations.
Literacy is so important! It is almost impossible to learn anything else whether it is science, history, or math without first knowing how to read. I remember well my own parents teaching me to read. I'm sure you also have memories of learning to read, teaching your child to read, or finding a book that really sparked your desire to read more.
Next week's Wordfull Wednesday topic will be twofold. First tell us about either when you learned to read or about teaching your child to read and then also include your favorite book to read as a child or to your children now.
♥♥♥♥♥♥♥♥♥♥♥♥♥♥
Now to announce February's random Wordfull Wednesday winner!