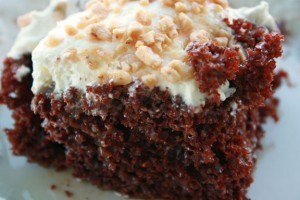 Another deadly dessert. Bon Bon made this on Thursday it was gone in no time! Named after the Skor candy bar this choclate cake oozes caramel and toffee.
Skor Cake
1 box chocolate cake mix
1 small jar caramel topping
1 can sweetened condensed milk
1 8 oz. container Cool Whip
1/2 – 3/4 cup toffee bits or crunched up Skor bars
Mix cake according to package directions. Bake in a 9×13 baking pan. When cake just comes out of the oven poke holes all over it with a fork. Pour caramel topping all over top. Then pour sweetened condensed milk all over the top. Let cake cool. Spread cool whip over top and sprinkle with toffee bits or Skor bar pieces.