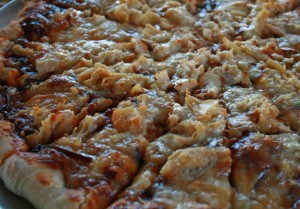 One of the easiest,cheapest things to make is pizza. My girls LOVE to cook pizza. Every once in a while I can talk one of them in to trying a new pizza recipe to break us out of the rut of cheese, pepperoni, or Hawaiian. This BBQ Chicken Pizza was an instant hit. It fast become one of our favorites.
BBQ Chicken Pizza
1 pizza crust
2/3 cup BBQ sauce (our favorite is KC Masterpiece or Bull's Eye)
1-2 cups cooked chicken
2 – 3 cups mozzarella cheese, shredded
Place pizza crust on a greased baking pan or pizza pan. Spread the BBQ sauce all over the crust. Sprinkle on the cheese, then the chicken. Bake at 425 for about 12-15 minutes.
Additional Ingredients to take it up a notch:
1 Cup diced green or red peppers
1/2 cup sliced red onion
Replace half of cheese with Gouda Cheese (YUMMY!)