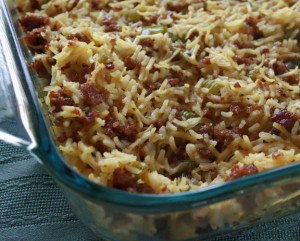 This is definitely one of our favorite main dishes. To make it a little bit healthier definitely leave out the butter and try using brown rice.
Savory Sausage Rice
2 lbs. bulk pork sausage (Jimmy Dean is the best)
2 1/2 cups chopped celery
1 cup finely chopped green pepper
3/4 cup chopped onion
2 (2 1/8 oz.) pkgs. Chicken Noodle Soup Mix (like Lipton)
4 1/2 cups boiling water
1 cup regular rice
1 cup slivered almonds
1/4 cup melted butter
Combine soup mix, boiling water, and rice in a 3 quart saucepan. Cover and simmer 15 minutes or until rice is done and water is almost all gone. Meanwhile, lightly brown sausage in another pan. Add celery, green pepper, and onion; saute until tender. Add sausage mixture to rice mixture and mix well. Pour into a 9 x 13 inch baking pan. Sprinkle with almonds and pour melted over all. Bake at 375 for 20 minutes.