Do I do this to myself?
18 yards of fabric
3 different dress patterns
40 buttonholes
40 buttons
2 spools of thread
1 dull pair of scissors because I sent all our good ones up with my brother-in-law to BYU-Idaho to get them sharpened for a buck a piece
and a WHOLE WEEK"S WORTH OF SEWING.
I tell you this is the very last time I am sewing six Easter dresses all at once. Next year the older girls have to sew theirs themselves if they want one. I have a funny suspicion they'll be sewing simple skirts.
They all looked beautiful I must say. This photo was taken after church right before they all tore into the house to change. I think they took after their mother in that regard. Can't stand to have a dress on for longer than is needful.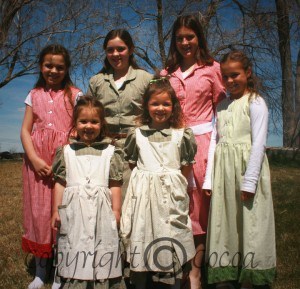 Special Dark got a new outfit too – red checked shirt and khaki pants but he fell asleep on the way home from church and I was NOT waking him up for a picture.