****THIS GIVEAWAY IS NOW CLOSED****
I love books. Let me say that again, I LOVE BOOKS!!! That would explain why I am drawn to home-school curriculum that is literature based like Sonlight, Ambleside Online, and Beautiful Feet. My children and I enjoy doing unit studies centered around books. There's always some book we are reading aloud together as a family.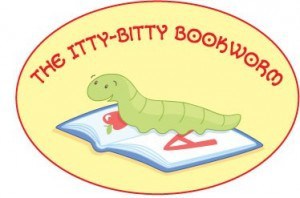 Imagine my delight in being able to review
The Itty-Bitty Bookwor
m Pre-School Curriculum
with my two youngest children. It is literature based, contains plenty of hands-on activities perfect for the little ones, and best of all it's already planned out day-by-day, week-by-week. The Itty-Bitty Bookworm is not just for home-schoolers. It can also be used at preschool or day care centers.
Itty-Bitty Bookworm is actually divided into two curriculums. Bo's Curriculum is for ages 3-5 while Bailey's Curriculum is for younger children ages 18 months – 36 months. In both curriculums a different classic children's book is covered each week helping you to build a wonderful library of childrens books you will enjoy reading together over and over again.
Cookie is 4 and Special Dark is 2 1/2 so I opted to try Bo's Curriculum. Our first book was Blueberries for Sal. We had fun:
* making blueberry muffins
* painting a blueberry bush
* making blueberries out of playdough
* weaving construction paper
* singing "The Bear Went Over the Mountain"
* looking for circles (with Special Dark) and spheres (with Cookie)
* making blueberry dye
* cutting out pails and blueberries to glue into a picture
*reviewing the letter and number of the week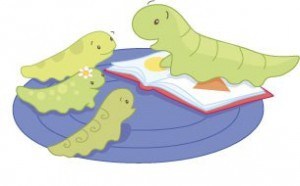 I was delighted with how easy the lesson plans were to follow as long as I prepared ahead of time gathering the extra materials on the weekly supply list. We already had most of the items on hand. The curriculum comes with any printables, cards, and worksheets that are needed. Every morning Cookie and Special Dark would ask if it was time for their school yet. They look up to their older sisters imitating them doing their schoolwork so it was nice to have a set time each day that I could spend with just the two of them doing "their school." Other books we have read for a week are The Little Mouse, The Red Ripe Strawberry, and the Little Bear, and Seeds! Seeds! Seeds! We look forward to reading The Sunflower House this week.
Tara, the creative genius behind Itty-Bitty Bookworm, has generously offered to give one lucky reader a full year of curriculum, a $300 value! To enter please leave a comment telling what your favorite book is to read with your child. The giveaway is open until Thursday at 5pm PST when a winner will be randomly chosen. One entry per person. Good luck!
Make sure to go explore The Itty-Bitty Bookworm website! There are tons of free printables and ideas there. You can also follow Tara at her blog Raising Itty-Bitty Bookworms.