The Band-Aid Bandit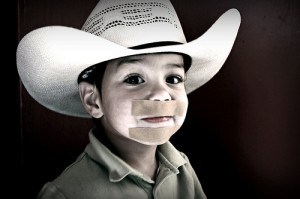 This little guy just cracks me up. He begged for weeks for us to get him a cowboy hat. He'd go up to his dad and very sweetly and solemnly say, "You have a cowboy hat. Cousin David has a cowboy hat," and then shaking his head slowly while looking very sad, "but I don't have a cowboy hat."
He was extremely excited when I pulled up to the feed store. He knew we were there to get his cowboy hat. He marched right into the store heading directly to the back where the hats were. Never mind he'd only ever been in there once before. He remembered exactly where they were from that first visit. He tried on several that were too small. This one fit just right. He couldn't stop grinning at himself in the mirror and it was nearly impossible to get the hat back off so the clerk could scan the tag. He insisted on wearing it the whole 45 minute drive home, which was a difficult task considering the brim wouldn't allow him to sit all the way back so he leaned as far forward as the buckles on his car seat allowed. Mighty uncomfortable looking to me.
A couple of nights ago he came sauntering into the living room wearing his boots, Wranglers, hat and two band-aids.
"Did you get an owie?" I asked.
"Nope. Now I look like uncle Ammon." Ammon sports a mustache and goatee. How Special Dark thought to use band-aids I'll never know.

I ♥ Faces is celebrating boys this week. Go visit and check out all the entries.