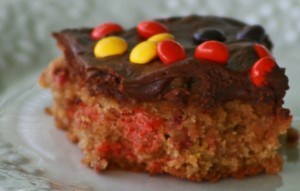 I have a brother who harbors a soft spot for all things peanut butter. These bars are so delicious. They are pretty sweet and definitely calm the peanut butter craving.
Peanut Butter Blondies
2/3 cup softened butter or margarine
1 cup packed brown sugar
1/2 cup white sugar
3/4 cup creamy or crunchy peanut butter
2 eggs
1 tsp. vanilla
1/3 cup milk
1 3/4 cups all purpose flour
1 tsp. baking powder
1 1/3 cups (10 oz package) Reese's Bits – they are mini Reese's Pieces
Chocolate Brownie Frosting (recipe follows)
Heat oven to 325. In a large bowl beat butter, sugars, and peanut butter until creamy. Add eggs and vanilla; beat well. Gradually beat in milk. Add flour and baking powder,mix thoroughly. Stir in 1 cup baking bits. Spread batter into a greased 9×13 cake pan. Bake for 40 to 45 minutes or until a toothpick inserted in the middle comes out clean. Cool completely on a wire rack. Meanwhile, prepare Chocolate Brownie Frosting.
Chocolate Brownie Frosting
1/4 cup softened butter or margarine
1/4 cup cocoa
1 TBSP. corn syrup
2 TBSP. milk
1 tsp. vanilla extract
1 1/2 cups powdered sugar
In a medium bowl, beat butter, cocoa, corn syrup, milk and vanilla until smooth. Gradually add powdered sugar beating well. Spread over cooled Peanut Butter Blondies.