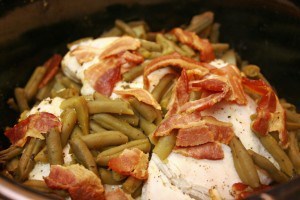 Recipes that use the slow cooker (crockpot) are so nice for easy Sunday dinners. This one is a favorite. It truly is a one-pot meal. We serve it with fresh homemade bread.
Garden Chicken Dinner
4 carrots, cut into 2-inch lengths
1/2 cup chopped onion
1/2 cup sliced celery
2 cups cut green beans (or 1 15-oz can)
4 skinless chicken breasts
4 slices bacon, cut into 1/2 inch pieces, fried and drained
5 regular potatoes, cut into big chunks
1 1/2 cups hot water
2 tsp. chicken bouillon granules
1/2 tsp. dried thyme leaves, crushed
1/2 tsp. dried basil
1/4 tsp. pepper
Layer in slow cooker, in order, carrots, onion, celery, green beans, chicken, bacon, and potatoes. In a small bowl stir together the rest of the ingredients pour over potatoes. DO NOT STIR. Cover and cook on high for 4 hours or on low for 6 to 8 hours or until vegetables are tender and chicken is done. Transfer chicken and vegetables to a platter. Makes 4 to 6 servings.


© 2007-2009 Chocolate on my Cranium, LLC all rights reserved