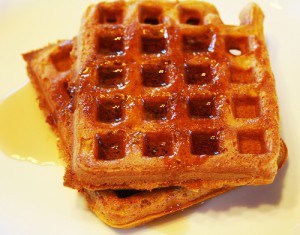 When I first made these a couple of weeks ago I was worried my family wouldn't like them. My fears were set to rest however when Special Dark (the pickiest of the bunch) came and started licking the batter from his fingers, over and over again! These are not too pumpkin-y. In fact I heard complaints that the waffles didn't have enough pumpkin in them!
Spiced Pumpkin Waffles
* 1 1/2 cups all-purpose flour
* 3 teaspoons baking powder
* 1/2 teaspoon baking soda
* 1 teaspoon cinnamon
* 1 teaspoon nutmeg
* 1 teaspoon ground ginger
* 1 pinch salt
* 2 eggs
* 1/4 cup firmly packed brown sugar
* 1 cup canned pumpkin puree
* 1 2/3 cups milk
* 4 tablespoons butter, melted and cooled
Directions
1.Mix together flour, baking powder, baking soda, cinnamon, nutmeg, ginger, and salt in large bowl.
2.In a second bowl, add eggs, sugar, pumpkin, milk, and butter; beat well.
3.Gently fold in the flour mixture.
4.Cook according to your waffle iron directions. These come out a nice golden brown.
5. Serve with maple syrup or honey butter.

© 2007-2009 Chocolate on my Cranium, LLC all rights reserved