I meant to post this earlier but a sweet little Hershey baby had other plans. She thought mother should hold her all morning. It was so nice to have an excuse to snuggle on the couch. 🙂
I fancy advent calendars of all types. We have a big one my father made from desk organizer boxes. Others that are trees on which you hang a star or ornament each day. My children made some using ribbon and gum last year. When I was little I loved the ones that had a small chocolate hidden behind a door or window of a Christmas scene picture. I think it's the counting down to Christmas, building anticipation, that makes advent calendars so enjoyable.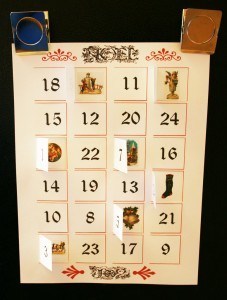 Here are three different printable advent calendars I've designed. One is geared more towards children, one features vintage Santa images, and the last one (my personal favorite) has vintage Victorian Christmas images. I created these because there is just something fun about opening a box to see what picture is hidden behind it. A little cutting with a craft knife and some gluing are involved. It literally takes only 5-10 minutes to put one together.
I also noticed today while blog hopping that mibostudio also has a printable advent calendar. Very pretty retro pictures!
If Scribd hasn't worked for you in the past I've also included a link to just download the pdf file from my google pages. Scroll the Scribd window to preview what is included in the pdf file.
Click to download the file –PRINTABLE ADVENT CALENDAR PDF FILE
**I should explain why I only do 24 days instead of 25. I've found that we get so excited on Christmas Day that we don't bother to open the 25th box or put up the 25th ornament on our advent calendars. 24 days it is!

© 2007-2009 Chocolate on my Cranium, LLC all rights reserved