See these wonderful people?
And these?
I'd also show a picture of my paternal grandparents but I can't find the pictures! Wah!
I have been greatly blessed in my life to have such wonderful examples of what a good marriage looks like. If you asked them what the secrets of their success are I'm sure you'd receive answers that are similar but also get answers that are different, for each couple has different dynamics and had to find what worked just for them.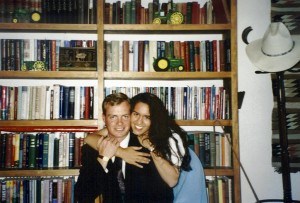 Mr. Ferrero Rocher and I have been married now for 15 years. In some respects it doesn't seem very long at all, but when I look at all we've experienced it seems like forever. Our marriage is strong. That can be attributed to a great number of things but since this Wordfull Wednesday topic asks for three things here's my three most important things in marriage.
1. Put God first. I know Mr. Ferrero Rocher loves the Lord, loves Him more than me. That's okay! I love the Lord more than I love Mr. Ferrero Rocher and that's as it should be.
When we put God first, all other things fall into their proper place or drop out of our lives. Our love of the Lord will govern the claims for our affection, the demands on our time, the interests we pursue, and the order of our priorities.

We should put God ahead of everyone else in our lives.

The Lord said, "He that loveth father or mother more than me is not worthy of me: and he that loveth son or daughter more than me is not worthy of me" (Matt. 10:37). ~Ezra Taft Benson, "The Great Commandment—Love the Lord," Ensign, May 1988, 4~
By putting the Lord first we have seen everything else fall into place. We have been carried through our trials and blessed beyond measure.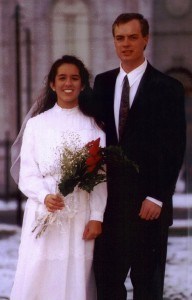 2. Fidelity and Trust. When we were married we made a covenant of chastity to one another, to stay virtuous and true.
The family is ordained of God. Marriage between man and woman is essential to His eternal plan. Children are entitled to birth within the bonds of matrimony, and to be reared by a father and a mother who honor marital vows with complete fidelity. ~The Family Proclamation, paragraph 7~
Having complete trust in each other, is vitally important. It builds a solid foundation not only for couples but also for the children who are a part of the family.
3. Humor. I guess I could have said any number of things for #3 like forgiveness or flexibility. But truth be told, we like to laugh an awful lot. Humor helps diffuse tense situations. It keeps us young and brings us closer together. We have a great number of "inside" jokes that we share just between the two of us.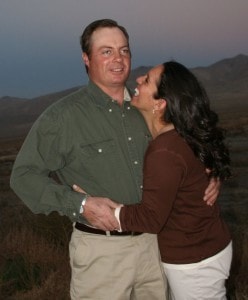 I hope we can accumulate many laugh wrinkles together. I want to be able to look at Mr. FR's face in 30 years and see wrinkles made by years and years of laughter.

© 2007-2009 Chocolate on my Cranium, LLC all rights reserved
Join us for Wordfull Wednesday! Write a post about the three most important things to you in a marriage. Come back here and sign Mr. Linky leaving the url to your post.