With Valentine's Day coming shortly, i ♥ faces is celebrating kisses this week. I knew immediately this is the photo I would enter. Kissing a newborn is like kissing a little bit of heaven.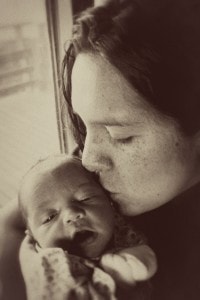 I took this photo holding my left arm up at an awkward angle, trying to get my fingers to reach around to the shutter button. The Sunday morning this was taken the rest of the family was at church. Little Hershey was only 10 days old, still so tiny, so fragile. I love how raw it is. My hair is still slightly damp from the shower I was finally able to take at 11:30 in the morning. There's no makeup masking my freckles. It's just me and my baby sharing a quiet moment in time.
Find more lovely lip pictures here.



© 2007-2009 Chocolate on my Cranium, LLC all rights reserved