Spring is almost here. For us, that means working the fields, fertilizing, dragging to break up manure from the cows that fed on them during the winter, spraying for weeds, and getting the pumps ready to go to irrigate as soon as it's warm enough. We do all this work so we can have a good harvest throughout the summer and into the fall. We could, technically, just leave well enough alone and hope for the best. But we've learned through experience that our fields will not produce a healthy crop if we fail to nurture and care for it. A marriage works the same way. If a couple does not put forth an effort to nurture their friendship and love it will grow fallow.
"Husband and wife have a solemn responsibility to love and care for each other." (Family Proclamation, paragraph 6)
In the February issue of Real Simple magazine there was an article "Secrets of Staying (Happily) Married" that showcased seven couples who had been married for over half a century.It was a fun read as much for the pictures as for the advice they had to give. This photo was my favorite. Look at the complete adoration the husband has for his wife!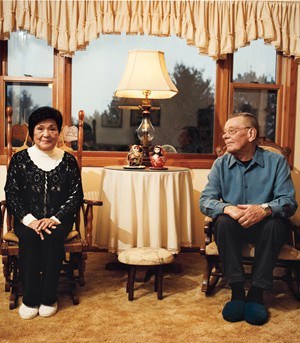 The advice the couples gave was good but I've learned more about nurturing love and friendship in a marriage by watching my own parents and grandparents. And learning right along with Mr. Ferrero Rocher what we need to do for our love to continue to grow.
Pray. Together. For your spouse. For yourself to be less selfish, more patient, more forgiving.
Talk but more importantly listen. I've mentioned before we don't yell at each other. That's not to say we don't have differences of opinion. We've just learned to listen to one another and talk things through.
Court one another. Mr. FR leaves notes for me to find. Simple ones like "Who loves you?" "Smile," or "I'm thinking of you" are tucked into the pocket of my pants, into a book I'm reading, or in my purse.
These are the very bare bones basics of what we do to nurture our love and friendship. More than anything I believe as we show our commitment and dedication to one another we have a greater desire to please each other and our love continues to grow.
Recommended articles to read:
Contention- and How to Eliminate It
Your Partner's Happiness
Marriage and the Great Plan of Happiness

© 2007-2009 Chocolate on my Cranium, LLC all rights reserved
Join us for Wordfull Wednesday! Write a post on today's topic, come back and sign the Mr. Linky leaving the url to your post.