Wow! Great response for the red bakeware giveaway. I really appreciate all the recipe ideas. There are so many good ones to choose from! First on the list to try will be key lime pie ice cream. Mmmm….
The winner of the Red Bakeware is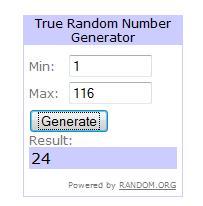 Lucky number twenty-four is

Congrats Grace!!! Look for an e-mail from me to get your info.
© 2007-2010 Chocolate on my Cranium, LLC all rights reserved