Think of three things you are most grateful for.
I bet for 99% of us family would be on that list. Am I right?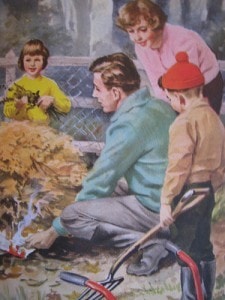 What is it about families that are so important? Why do we love them so fiercely? What makes us strive for the ideal – to marry, have children, raise them to carry on traditions we learned from our own parents? Even after days like I had on Sunday – with two children who bickered with each other non stop, a toddler who wanted attention from mom and only mom, and screamed if anyone else tried to help him. Even with days like those – when patience is worn paper thin, what makes us get up in the morning, loving them just as much, to try it all over again?
There is something about family that makes life worth living.
This September I am teaming up with Jocelyn from We Talk of Christ to hold a month long celebration of The Family. September marks the 15th anniversary of The Family: A Proclamation to the World. We want to spread the message about the importance of families and the teachings espoused in this wonderful document. The truths contained therein are universal to many cultures and religions of the world.
You are invited to join our celebration!
And what a celebration we have in store. We've got guest bloggers with varying backgrounds and experiences ready to share their views, crafts, or activities – all about the family. I've already received some of their posts – and WOW! – you are going to amazed, edified, uplifted, and encouraged. Every Monday in September we will also host a blog hop around a specific theme to encourage bloggers (YOU) to share their own experiences and ideas about the importance of families. We have giveaways lined up for those who participate in the blog hops. Really wonderful prizes. Over 30 in all!
Both Jocelyn and I are so excited about our celebration that we couldn't keep it a secret any longer. We love our families so much! We know you love your families just as much. We are pretty sure you are going to love celebrating FAMILIES with us throughout the whole month of September. This is a HUGE celebration. And we want you to be involved. How?
♥ Start with your own families. What do you love about them? What has parenthood been like? What are the joys and sorrows you've experienced? Begin writing posts about your family – any aspect of it – and set them to publish in September. If you need ideas for topics just read The Family Proclamation. Trust me – you won't run out once you get started. We'll provide a place for you to link to your posts so everyone can read each other's thoughts and glean ideas.
♥ Participate in our Monday blog hops. Write a post about that week's topic and link to it on the official blog hop page. Here are the topics so you can get your creative juices flowing to write your posts to correspond with them.
September 6 – Photo Essay: Photos that "say" something about the Family Proclamation. For example, a picture of your family playing a game with the caption from the proclamation that says, "Successful marriages and families are established and maintained on . . .wholesome recreational activities."
September 13 – Crafts about the Proclamation or family
September 20 – Sharing the Proclamation…Example: Take sidewalk chalk and write one truth from the family proclamation some place where a lot of people would see it. Post something at work. Do something artistic with it. Present it to a neighbor or friend. Blog about an experience when you shared it with someone.
September 27 – FHE Lessons pertaining to some part of the Proclamation.
All those who participate in the blog hops will be eligible for the giveaways for that week. Both Jocelyn and I will be giving away four prizes each week so you have the opportunity to win one of eight prizes every week in September! We have some very generous sponsors who have donated some wonderful prizes. All are centered on The Family.
♥ Help us spread the word about the celebration! See the buttons at the top of my sidebar? Post them on your blogs. Write a post about the celebration. Tweet it. Share it on Facebook. Whatever you do, refer others back to this post so they will know more about the celebration. We will be hosting a giveaway in two weeks for those who help to spread the word.
♥ Be prepared to comment and discuss about all aspects of the family, especially on the guest posts. I personally have 26 guest bloggers lined up for September. Some are well known, others not as much, but they all have taken the time to write and share about their experiences.
So, what do you say? Will you join us? Will you help to spread the word so others can join in the fun and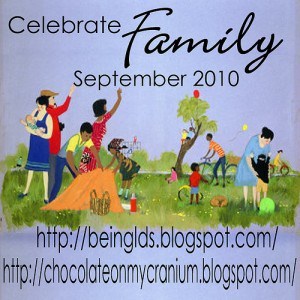 © 2007-2010 Chocolate on my Cranium, LLC all rights reserved