I first "met" our next guest poster years ago online through an LDS homeschool yahoo group. In the words of Anne Shirley, "She is a kindred spirit."
Take it away, Andalucy!
***************************************
We are counseled as members of the Church of Jesus Christ of Latter-day Saints to hold regular Family Home Evenings and family councils. Monday night is generally set aside for Family Home Evening. One purpose for this is to teach our religious doctrine. Boyd K. Packer, an apostle of our church, said "True doctrine, understood, changes attitudes and behavior. The study of the doctrines of the gospel will improve behavior more quickly than a study of behavior will improve behavior." We've found this to be true in our family. Another purpose of FHE or family council is to address issues that arise in our family without having to single out someone for undesirable behavior. Instead of scolding when I find that one of my children has a consistently negative attitude and poor execution of chores, I can think to myself, "this would be a great thing to bring up in family council." By the time we've all gathered together and started our meeting, I've calmed down enough to say something like, "Are there any suggestions for how we might motivate ourselves to do chores the way we know is right?" It provides a safe and loving atmosphere, or at least, a neutral forum for discussion of our family values and culture.
Our FHEs and family councils tend to the informal and spontaneous. That's what works for us. If I were planning exclusively for my own personality and taste, I would prefer to sit everyone down sedately at 6:45 Monday evening and follow a planned program. We find that in our particular family, that spells disaster. Why is it that the Monday dinner hour tends to be the worst of the week? After going through that, the last thing I want to do is prolong the torture.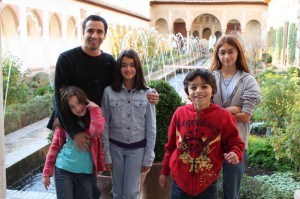 J and the kids
Our children are old enough to learn better self discipline, and we realize we haven't been the best at teaching this. Right now we're working on reverence during family prayer. It will take time, and we're only looking for a little improvement each day. They need to learn the habit of attention. We're working on it.
For now, we find that Sunday afternoons work best for teaching doctrine and good character. We start informal discussions of different topics when we have a captive audience: during lunch, dinner, or snack. J is especially good at conducting these discussions without getting too preachy. Two Sundays ago he asked me, "What is the most important thing you learned as a child?" while we were gathered around the table having a snack with the kids.
Lidia immediately leaned over and whispered in my ear, "work." I had to laugh. It could be that something like the following remark has occasionally been known to pass my lips: "You call this work? This? When I was a kid by the time I was your age I was spending at least a couple hours a day hauling buckets and shoveling manure down on the farm. That was work!" I said that while work was an important thing I learned, something somewhat related to that and perhaps more important was learning to do things that were not pleasant. I learned a certain amount of self-discipline that helped me to accomplish things that made me feel good about myself. I didn't learn as much discipline as some do at a young age, but it was a start. We talked together about what things we have to do every day that are not fun but will eventually give us satisfaction or lead to a happy life. We had a big laugh (but were also sobered) imagining what our family life would be like if J and I never did anything we didn't feel like doing. Lidia piped up, "We would walk around naked because Mom hates shopping for clothes!" Oh dear, it's true.
We talked about what options are available for future employment for a student who never studies in school compared to someone who does. We talked about what the result is of never practicing violin compared to practicing every day. It was a great discussion, and hardly preachy at all!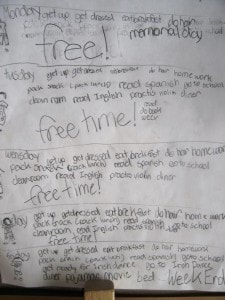 The next day, I found the above list in Lidia's room. She had listed several things to do each day that require self discipline, and then you can see that she values her "free time!" The other day she was loafing around the living room as I passed through. I thought of pointing out to her that she hadn't practiced violin yet, but decided to wait a few minutes. Sure enough, soon after I left the room I heard the opening strains of "Minuet I."
Not a bad result for a little conversation over watermelon.
This piece was originally posted over four years ago. I am happy to report that after years of practice, our children are now able to sit sedately for several minutes at a time! Still, I think our best character and doctrine discussions happen spontaneously while riding in the car, washing dishes, or eating watermelon. Or apple crisp with ice cream.
*******************************************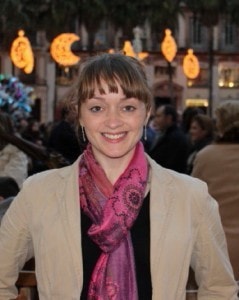 Andalucy was born and raised in central Maine, but now lives in southern Spain with her husband and four children. Some of her loves are reading, writing, lounging, long walks, museums, orchestra concerts in castles, and licorice peppermint herbal tea.
© 2007-2010 Chocolate on my Cranium, LLC all rights reserved