Hello friends. I am AmberLee and I blog at GiversLog, where I write tutorials and offer gift ideas and even have projects to do with little ones. I am so thrilled to be stopping by Chocolate on my Cranium (a long-time blog favorite of mine!) I'm here to share a few favorite ideas for long-distance family bonding.
I think the best thing about bonding time is that every family has their own way of doing it. When I get together with my family, we cook, my husband's family plays SPOONS competitively, usually breaking at least one piece of furniture. As for my own little family, we dance our hearts out in the family room. It's always so good to just be together.
A year or more ago, we started a couple new ideas took our bonding a few generations deeper.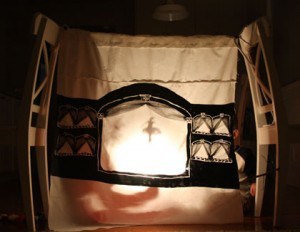 Idea One: Five-Minute Family Story
Once a week we have a family night. Brilliant idea, I know. Unfortunately I can't take credit. Family Home Evenings are something our church encourages us to keep up. My kids are 7, 5, and 1, and they love it. A whole hour of attention from mom and dad at the same time. We have a few things we always do. We sing a song together, say a prayer together, and as of a year ago, we read a short piece of family history.
Often we keep it simple. We look at a family blog entry and find out what we were doing a year ago. Or we read to the kids about when they were babies from a journal. (I am a veracious journal keeper. If only I were so good about the laundry and the mending). Often we dig into stories from a family history binder my MIL gave us (thanks, Mom!) Sometimes we come up with a question for a grandma or grandpa, aunt or uncle and call them on the spot. Occasionally, we'll act out a favorite story as a puppet show (see my theater how-to right here).
The response from our children has floored us. My children speak of great great grandparents as if they're familiar, like they just came back from a visit at their house. We discover similar likes and dislikes between the kids and grandparents. And one day we were driving when my daughter said of a Grandfater she'd met only as a baby, "I miss Grandpa John." Of course this had me sitting in the front seat wiping away tears.
The best part about this idea is that we've managed to keep it simple, so it has been totally doable. We can pull it off week after week.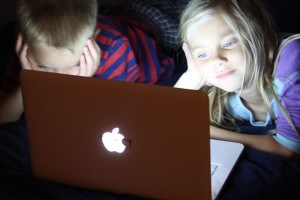 Idea Two: Long-Distance Bed Time Stories
One other favorite idea we've tried for family bonding across generations is this. We have Grandpa call and read bedtime stories to the kids. The kids already need a story and Grandpa needs some kids to read to. The kids love being tucked into bed by Grandpa even though he's hours away. But here's the caveot on this one. We have not managed to keep it up consistantly. We usually try to do a video call with Skype (totally free), but I have been thinking we might try this over the phone next time. Just to make it one step simpler.
Making dear freinds out of great great grandmas and grandpas has been more rewarding than we could have thought. And if you do give one of these ideas a try, don't be afraid to keep it simple. Simple means doable.
Good luck. If you try, I'd love to hear how it goes.
****************************************
Visit We Talk of Christ to read more Family Proclamation posts!

Participate in the blog hop this week to be eligible to win

Show off your family in a unique and beautiful way! These custom silhouette art prints are created to best display the look of your family and are an amazing art piece in any home.

Each print is custom designed by Gretchin Anderson of ishootnouns on Etsy, based upon the information you provide to help capture your family silhouettes in the best possible way,
and then professionally printed on art paper.

Leave comments on any posts this week to be eligible to win the following:

High quality wood handled rubber address stamp designed for our
family celebration by Ginger's Design Studio.

A custom handmade journal from The Anomalous Star. This handmade journal is 4 1/2 x 9 inches in size.
It is bound with 3 rings and filled with cream non-lined paper.
The cover features an image of the Salt Lake Temple.

The Alice Green Paisley Headband from KellyCrunner. This particular headband has a beautiful collection of greens, blues, aquas, and browns that compliment each other very well. Made from designer fabric and vintage buttons. Perfect for any outfit or season!
© 2007-2010 Chocolate on my Cranium, LLC all rights reserved