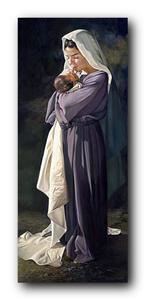 Mary's Heart by Liz Lemon Swindle
Christmas already? You bet! Around here we do a handmade Christmas. The children draw names and figure out something they can make for one another. Mr. Ferrero Rocher and I think of things we can make the children, as well as each other. And I'm not lying even a little bit when I say it is a well loved tradition by us all! The children realize we do it to simplify our Christmas holiday and put the focus on serving rather than getting. Doing a handmade Christmas entails planning ahead especially because I like to have it all done by November 1st so we can enjoy the holidays without feeling rushed or stressed. I'm also not lying when I say that the hardest one to make or do something for is Mr. FR.
But this year we have come up with something special. I KNOW it will be perfect for him. The children are all on board 100% and are so excited to participate. Want to know what it is?
You have to promise not to tell.
PROMISE?
We, the children and I, are memorizing The Living Christ to recite to him first thing Christmas morning. We want to do it before any other gifts are open, to help set the tone of our Christmas celebrations that day. Bon Bon has already memorized it for a Young Women value project on Faith. She is in charge of helping the rest of us learn. My children are all very good at memorizing, even Special Dark, so I have no worries there. In fact I'm most worried about stretching my own little brain cells too much. 😀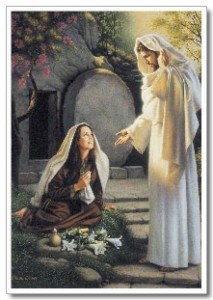 Why Weepest Thou by Simon Dewey
I came up with the idea to memorize it as a gift after reading this article, Bringing Christ Into Our Home, in the September 2010 Ensign. The mother in the article helped her children memorize The Living Christ by matching phrases with pictures. I suggested the idea to my children and they loved it! To add to our excitement just a few days later I received an e-mail from Discover the Scriptures announcing a plan and schedule, complete with visuals, for memorizing The Living Christ by Christmas. Coincidence? I think not! We will be printing off the visuals and creating little flip books for the younger children.
We are having to be a little sneaky as Mr. FR is home quite often, especially during our morning devotionals when we had planned on memorizing it. Today while driving to church we realized the half hour drive going and the half hour drive coming is perfect for reciting what we have memorized over and over again as Mr. FR has to go to church earlier than the rest of us and comes home later than we do. Another plus…it adds to the spirit of our Sundays!
© 2007-2010 Chocolate on my Cranium, LLC all rights reserved