The year was 1985.
Our decorations were few, limited to a wooden tree
that was placed on top the piano
(that's all I can remember anyway).
As children we knew there wouldn't be many gifts.
There wasn't enough money.
But we were going back to Utah to be with grandparents,
and uncles, and aunts, and cousins!
Our trip to Utah was a gift from my mother's siblings.
We were so excited to go!
It would be gift enough.
We had a grand time.
Visiting, visiting, visiting.
The lights on Temple Square were beautiful.
There was snow!
It hadn't even been cold
when we left Miami.
The flight home was long.
Both babies got sick
On my dad.
Good thing he's a doctor, right?
We landed in Miami late
at night.
It was after midnight when
we pulled up into our driveway.
I was still getting stuff from our
beat up, rusty station wagon
when I heard the screaming.
Inside our house
which had been void of Christmas decorations
was a beautifully lit
Christmas tree adorned with
gifts below.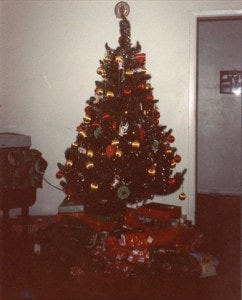 The questions that rolled through our minds.
Who?
Who would think of us?
Who would give of themselves in such a way?
How?
How did they get in to our locked house?
Complete with bars on the windows?
This was Miami afterall!
Why?
Why would someone knowingly give up more Christmas for themselves
to give us a bounteous Christmas?
When?
When did they sneak in?
Did they do it that very day
Knowing we would be coming home soon?
We felt overwhelmed
with love
with gratitude
with humility.
My mother cried.
My father cried!
We all cried.
For years we did not know
who had been so generous.
My parents suspected
the young single adults who they
worked with at church.
But no.
It was my dear, sweet piano teacher.
The same one who was giving
Still giving me
free piano lessons.
She and her husband gave of themselves.
And we didn't know
Until after they moved.
And we couldn't thank them
for the Christmas Magic.
♥ ♥ ♥ ♥ ♥ ♥ ♥ ♥ ♥ ♥ ♥ ♥ ♥ ♥ ♥ ♥ ♥ ♥ ♥ ♥ ♥ ♥ ♥ ♥ ♥ ♥ ♥
"What did you get for Christmas?" This is the universal question among children for days following that most celebrated holiday of the year. A small girl might reply, "I received a doll, a new dress, and a fun game." A boy might respond, "I received a pocketknife, a train, and a truck with lights." Newly acquired possessions are displayed and admired as Christmas day dawns, then departs.

The gifts so acquired are fleeting. Dolls break, dresses wear out, and fun games become boring. Pocketknives are lost, trains do nothing but go in circles, and trucks are abandoned when the batteries that power them dim and die.

If we change but one word in our Christmas question, the outcome is vastly different. "What did you give for Christmas?" prompts stimulating thought and causes tender feelings to well up and memory's fires to glow ever brighter.

Giving, not getting, brings to full bloom the Christmas spirit. Enemies are forgiven, friends remembered, and God obeyed. The spirit of Christmas illuminates the picture window of the soul, and we look out upon the world's busy life and become more interested in people than things. To catch the real meaning of the spirit of Christmas, we need only drop the last syllable and it becomes the Spirit of Christ." ~Thomas S. Monson, "Christmas Gifts, Christmas Blessings"
What can you give this Christmas season?
© 2007-2010 Chocolate on my Cranium, LLC all rights reserved