Do you ever wonder, as you go through your days, what a typical day was like for one of your ancestors? How early did they rise? What chores or work did they have to do? What was it like to read by candlelight in the evenings or have to heat water before washing?
The only way to really know is to read what they wrote. Keeping a journal or written record of our daily lives may seem self-centered, but it's not!
"People often use the excuse that their lives are uneventful and nobody would be interested in what they have done. But I promise you that if you will keep your journals and records, they will indeed be a source of great inspiration to your families, to your children, your grandchildren, and others, on through the generations. Each of us is important to those who are near and dear to us—and as our posterity read of our life's experiences, they, too, will come to know and love us. And in that glorious day when our families are together in the eternities, we will already be acquainted." (Spencer W. Kimball, "President Kimball Speaks Out on Personal Journals," New Era, Dec. 1980, 26)
I love reading the copies of letters, personal remembrances, and journals of my ancestors. Learning about their interests and talents, their everyday lives brings me closer to them. When Mr. Ferrero Rocher and I were drafting the plans for a new kitchen addition we laughed when I came upon the description of my great-grandmother's kitchen. See, my new kitchen will be about 24 x 30, which I realize is HUGE, even by today's standards. My great-aunt Mary wrote this:
"My earliest memories of Grandma are centered about her in her kitchen. At that time the kitchen was one-half the area of the downstairs of the house, for it took in the area of the present kitchen, all of the present dining room, and most of the hall, and was approximately 24 feet wide by 30 feet long. The north end of the kitchen was the pantry area. A large porch, the width of the house, was back of the kitchen. Grandma, with her long, black hair and piercing deep-set eyes and ready smile, and wearing an apron that fully covered her dress and barely showed her tiny button-top shoes, was constantly on the move, mainly between her large coal stove and her immense kitchen table. Two or three times a week the aroma of hot bread permeated the kitchen as Grandma baked her usual six or eight loaf batches of bread."
Having a huge kitchen to bake bread in (and have family gatherings) was just as important to my great-grandmother as it is to me! This little piece of her history, though seemingly unimportant, is a fun link to her.
Now compare the size of that kitchen to the following description of Joseph Stacy Murdock's house, one of Mr. Ferrero Rocher's ancestors.
"We are all in usual health and make it our home at present with Mother. Last fall we built us a good brick house 20 by 35 it took about 40,000 brick and we got it inclosed and finished off and moved into it in December. Their is a celler under the whole house. It contains one good room 20 by 20 with a fire place and oven also a celer room 19 by 14 also 2 upper rooms which are finished and a good Chamber over the whole about 6 feet high in highth from the floor to the eaves." (spelling preserved as he wrote it)
Ahem…obviously some of us are more spoiled than others. 😀
"Your story should be written now while it is fresh and while the true details are available. Your private journal should record the way you face up to challenges that beset you. Do not suppose life changes so much that your experiences will not be interesting to your posterity. Experiences of work, relations with people, and an awareness of the rightness and wrongness of actions will always be relevant. Your journal, like most others, will tell of problems as old as the world and how you dealt with them."(Spencer W. Kimball, "President Kimball Speaks Out on Personal Journals," New Era, Dec. 1980, 26)
Mr. Ferrero Rocher is an avid journal keeper. Every day there is an entry of what equipment was worked on, which fields were cut or watered, even the funny things the kids have said. I like going back even a few years to read what happened. There's so much I have forgotten about but remember upon reading what he wrote down.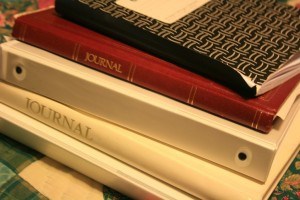 some of my latest journals
My own journals have evolved over the years. I have some where I wrote about once a week, others where I typed a little something each day and then printed it off at the end of the week to keep in a binder.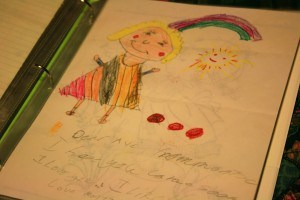 Childhood letter written about age 8
Still others are actually letters from my childhood that my grandmother kept.
"Your journal is your autobiography, so it should be kept carefully. You are unique, and there may be incidents in your experience that are more noble and praiseworthy in their way than those recorded in any other life.

"What could you do better for your children and your children's children than to record the story of your life, your triumphs over adversity, your recovery after a fall, your progress when all seemed black, your rejoicing when you had finally achieved? Some of what you write may be humdrum dates and places, but there will also be rich passages that will be quoted by your posterity.

"We hope you will begin as of this date. If you have not already commenced this important duty in your lives, get a good notebook, a good book that will last through time and into eternity for the angels to look upon. Begin today and write in it your goings and your comings, your deeper thoughts, your achievements, and your failures, your associations and your triumphs, your impressions and your testimonies." (Spencer W. Kimball, "President Kimball Speaks Out on Personal Journals," New Era, Dec. 1980, 26)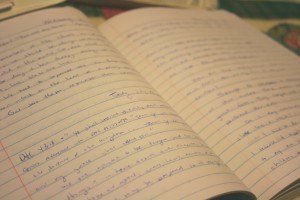 Scripture Study Journal
I also have a gospel study journal, just a simple composition book, where I write what I have studied and learned for the day. I read the scriptures, General Conference talks or other discourses, and copy down meaningful quotes and thoughts or impressions I receive. I like this format to see what my progression has been from day to day. The only drawback is having to flip back through time to see what I wrote or learned about a certain topic. I am going to start another format of scripture journal by topic similar to the one described here. I can't wait to get started!
Do you keep a journal? What form is it in? Is it more writing or pictures or letters?