Homeschooling is tough! There are so many different things to keep track of and think about, especially when there are a large number of children in a family. Now that my three oldest are 15, 14 and 12 there are helpers to switch duties keeping the younger ones entertained while I help the others do school. I have been asked countless times, "You have older ones now who help with the younger kids but how did you do school when your oldest was only 5 or 6 and there were toddlers and a baby to take care of too?"
I've been trying to think back when my oldest was five. We had four little ones at the time. I remember feeling like I wasn't accomplishing very much. It seemed as if my days were filled with getting just the basics of cooking and cleaning done. My mother-in-law wisely encouraged me to keep plugging along. She said, "Years down the road you'll look back at this time and truly be amazed at all you were able to get done. It's hard to see when you're in the thick of it." She was right!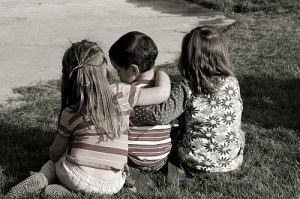 Here are a few tips and tricks I've learned to keep school running while there are toddlers and babies in the house and no older children (yet) to help.
1. Start with a basic routine.
Kids thrive on routines! Yes, there are many interruptions because of the baby but there is a basic routine to the day. We wake, eat, do chores, go to bed, at specific times every day. My children love picture charts at this age (3-5) to remind them what needs to be done and when. We have charts for the morning and charts for the evening. The physical act of moving a picture from the to-do side to the done side is fun for them. Keep things simple. I can't stress that enough! Less really is more at this age. And it's all about developing good habits.
2. Meet the needs of the littlest ones first by feeding, changing and playing with them.
Then make use of a good baby sling. My babies always seem to want to be held or at least want me in eye-sight. I haven't kept track but I'm pretty sure at least half of our homeschooling has occurred on the couch with children surrounding me while I nursed the baby. Still happens today! I highly recommend reading this article "The Baby IS the Lesson" by Diane Hopkins. I read it during the time when I had four under five and it helped to change my perspective about homeschooling with so many little ones about. I didn't feel like such a failure!
3. Teach little ones to play independently.
Some people use walkers, playpens, or johnny-jump-ups for their babies to keep them in a safe spot for several minutes. Toddlers can learn to play and stay in the same area of a room as well. We rotate toys on a weekly basis so they seem knew and keep the toddlers' attention. We also have file folder games and board books that get switched out on occasion.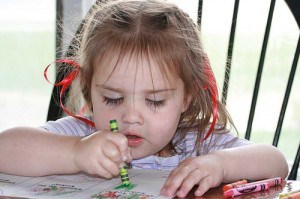 4. For young children (3 – 6) school lessons should be kept short and simple.
There is no need for fancy plans or elaborate projects. Ten to fifteen minutes is a good place to start, working your way up to thirty minutes. It's easier though when the lessons are broken up into 15 or 20 minute segments scheduled around the baby's feeding, blanket, or nap times. Take advantage of learning moments that happen throughout the day. Honestly, at this age, you can go with the flow. They are so naturally curious about everything. You don't need to cover all subjects, every day. We usually only had a four-day school week with the fifth set aside as a fun day of going to the library, park, or more involved projects.
5. Find or make up your own songs that teach basic concepts.
We love to sing! We make up songs to tunes we already know to help our children remember things better. Musical Notebooks is a good product we've used with success.
6. READ. Read books constantly.
Many times I think that's all we were able to do in a day. I gave the littler ones their own board books to chew on and flip through while I read to and with the older ones. There are many lessons to be learned from a good book.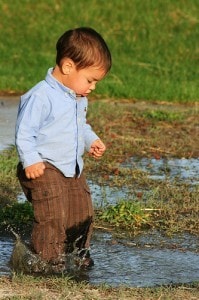 I know there is so much more I could write about handling a houseful with so many little ones. The main point I want to make though is to just enjoy them! This is a stage of motherhood you will never be in again, when all of your children at once love you unconditionally and they don't compare you with other mothers. It is an age of wonder, of innocence, of excitement and curiosity, of messes, of exasperating moments, of fun. Be assured that the Lord who has blessed you, entrusted you, with His precious little ones will be there to help you. I believe that heaven itself sends angels to watch over us and our little ones as we do our best to rely on the Lord for guidance in teaching them. Are there hard days? YES! Can you do it? YES, with God's help!
Monday's post . . .Homeschool Planning
************************************************
Heart of the Matter has partnered with 16 of the most inspiring, lovely, and just plain awesome bloggers in the homeschool community to bring you 10 days, 160 posts full of resources for those starting out, burned out or need new ideas.
Be sure to visit these brilliant women in this 10 days adventure between February 7th-18th! We love these ladies and we know you do too.
10 days of socialization for mom | The Homeschool Chick
10 days of classical education | Milk & Cookies
10 days of large families | Chocolate on My Cranium
10 days of special needs | Special Needs Homeschooling
10 days of struggling learners | Homeschooling the Chaotic Family
10 days of homeschooling girls | Homegrown Mom
10 days of homeschool enrichment | Confessions of a Homeschooler
10 days of building a spiritual legacy | Mommy Missions
10 days of frugal homeschooling |The Happy Housewife
10 days of Charlotte Mason | Our Journey Westward
10 days of unschooling | Homeschooling Belle
10 days of organization | Confessions of an Organized Homeschool Mom
10 days of getting started | Blog, She Wrote
10 days of homeschooling boys | The Tie That Binds Us
10 days of homeschooling Montessori | Fruit in Season
10 days of preschool | Delightful Learning