In September 2010 Julie B. Beck, General President of the Relief Society, spoke to the women of the church about the importance of learning the history of Relief Society. Some of the many reasons she gave were:
"Understanding the history of Relief Society strengthens the foundational identity and worth of faithful women."
"We study our history to learn who we are."
"The history of Relief Society elevates and validates the standing of women and demonstrates how they work in companionship with faithful priesthood leaders."
"We study our history to learn what we are to do."
"We study our history because it unites faithful women."
"We study our history because it helps us change."
In an effort to learn more about the great heritage of Relief Society, write our own histories, and learn to recognize what we can do to change in our own lives, comes a new website, Sunday Society. Each week excerpts from historical newspapers or magazines of the Relief Society will be posted with links to the full issues. We invite all who wish to to come and read and join in discussions about these articles! In addition we'd like you to write your own thoughts and feelings, or histories of women you know, or experiences you've had in Relief Society and join the weekly blog hop. Please come and join us!
This week I'd like to focus on what Sister Beck wrote about "what we are to do."
Sister Beck said: "Our understanding of our historical purpose helps women learn to prioritize properly so they will "not spend money for that which is of no worth, nor [their] labor for that which cannot satisfy." (2 Nephi 9:51) Relief Society has always had the responsibility to do as the Apostle Paul taught—to teach young women to be sober, discreet, and chaste and to teach those who are married to love their husbands, love their children, and strengthen their homes."
The scripture she referenced from the teachings of Paul is Titus 2:4-5 "That they may teach the young women to be sober, to love their husbands, to love their children, To be discreet, chaste, keepers at home, good, obedient to their own husbands, that the word of God be not blasphemed."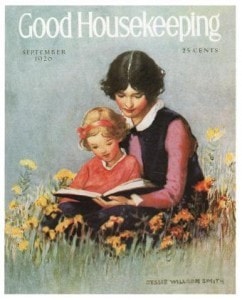 I know this scripture has been discussed numerous times in women's gatherings around the world. In my study this week I learned a few new things that shed light on the phrase "keepers at home." The footnote in my KJV of the bible for keepers at home says it is from Greek meaning housekeepers or guards.
The very day I was studying this, Donna B. Nielsen, who is a wonderful historian, scriptorian and author posted about the Greek term used in Titus that is translated to "keepers at home." (I LOVE when that happens!) Here is a portion of what she posted.
"Charis Hart writes:

"In Titus 2, Paul instructs the elder women to teach the young women to be "keepers at home". What does this mean? The Greek word translated "keepers at home" (KJV) or "homemakers" (NKJV) is oikouros. This compound word is from oikos– house, household, family; and ouros a guard, guardian, a watcher, a warden.

Let this thought sink in for a moment: the word oikouros translated "keepers at home" carries the meaning of "watching the house, of a watchdog"
A little light went on in my head as I read this. It brought to mind another one of Sister Beck's talks from BYU Women's Conference 2010, Lionnesses at the Gate. "I have said lately that women are like lionesses at the gate of the home. Whatever happens in that home and family happens because she cares about it and it matters to her. She guards that gate, and things matter to that family if they matter to her. . .Sisters, you are each like the lioness at the gate. This means that there has to be some prioritizing. I was taught years ago that when our priorities are out of order, we lose power. If we need power and influence to carry out our mission, then our priorities have to be straight."
Our realm as women is to guard our homes – physically and spiritually. We allow what comes into our homes through the door, through television, through the internet, through books. If we don't like what is coming into our homes we have the responsibility, the heavenly charge and duty to get rid of it! We need to make our homes places of refuge where all things are "virtuous, lovely, and of good report."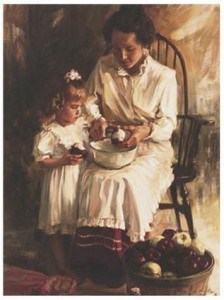 Apple of Her Eye by Loren Entz
In this week's Woman's Exponent excerpt from March 15, 1873, "Daughters of Zion, Let Us Be Mindful," it says,
"HOME is the realm in which the wife is the sovereign, and her sovereignty will bring her honor and love according as her rule over the matters committed to her trust is wisely and beneficently ordered.

"That realm, limited as it is, demands for its government a much greater and a more unremitting effort of thought than is always given to it; for when a wife, intent on making the home of her family all that it is possible to make it, studies daily how best by skillful management she can gratify preferences, please tastes, anticipate wishes, keep out of sight little worries, twine privations with decorations of love, and lift off for a while burdens of care, all of which appeal to her for thoughtful and graceful intervention, she seldom fails of securing her reward which she most dearly prizes."
It is a beautiful description of our duties as "keepers at home." We gratify, please, and anticipate the needs and wishes of our family. We try to lift off burdens and even bring joy and gladness through the decorations we use to adorn our homes.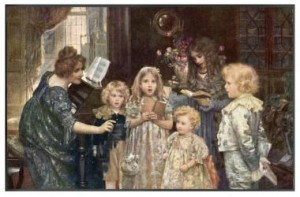 The adversary recognizes the importance of our duty to be the guards of our homes. He has been doing everything in his power to make women feel that what they are doing at home is of no worth. He has perpetuated the "myths and misperceptions regarding the strength, purpose, and position of women." (Sister Beck) Which brings me back to some more of what Donna Nielsen shared:
"The commission to "keep" was first given by God to Adam in Genesis 2:15: "And the LORD God took the man, and put him into the garden of Eden to dress it and to keep it." In this case, we are looking at the Old Testament and a Hebrew word.

"The Hebrew word in Gen 2:15 (Adam's assignment) is shamar, translated as keep , observe, heed, preserve, beware, watchman, wait, watch, regard, save. The next occurrence of the word shamar is in Genesis 3:24 where "Cherubims, and a flaming sword which turned every way, to keep the way of the tree of life."

"Can you see similarity in meaning of the Hebrew word shamar translated "keep" and the Greek word "ouros" translated "keeper"? The "keep" commission of Gen 2:15 and Titus 2:5 are about protecting, watching, guarding.

"From what danger do you suppose Adam was supposed to "keep" the garden? (Remember, he was given this assignment before the fall: before thorns, weeds, thistles and decay.) Is this "keep" directed to Adam a mere calling to domestic servitude as a gardener? The Titus 2 admonition to be "keepers at home" is no more a reference to domestic servitude than was God's "KEEP" commission to Adam.

"Fulfilling God's commission to "keep" is a way in which male and female reflect the image of God who is referred to in scripture by a Greek word which means "keep above all"."
I just love that last paragraph! When we fulfill our commission to KEEP at home we are reflecting the image of God.

Please join us at Society Sunday! "Just post your thoughts and feelings on the most recent Woman's Exponent excerpt, "Daughters of Zion, Let Us Be Mindful," or a story or short biography about a woman in Relief Society making history now. It doesn't have to be dramatic–the everyday life of the women of our society is what truly makes history! Then post your link here."
© 2007-2011 Chocolate on my Cranium, LLC all rights reserved