Today's Wordfull Wednesday we are sharing stories of women ancestors from our own family history. Today I am sharing the story of my great-great-great grandmother Ramona as told by my own grandmother, Yaya, in a book of family history stories she wrote for her grandchildren when we were small. Keep that in mind when you are reading as it is written to an audience of young children.
A few things to know first. Yaya is Catalan for grandmother. Avi is Catalan for grandfather. The Carlist War spoken of in the story was actually the second of Three Carlist Wars, Spanish civil wars where both sides fought for their claim to the Spanish throne. It took place from 1846-1849.
Ramona, the Little Shepherd Girl
When Yaya Ramona was a little girl, she lived in a little Catalan town far south of Barcelona. The name of the town was Ulldecona. It is up in the hills. Ramona was the little girl in the family and had many big brothers. Their home was probably very small, and since the hills around Ulldecona are all covered with rocks, it was probably made out of rock, with rock fences all around the farm. Of course there was no electricity and everyone in the family had to work very hard.
Ramona's father had a garden and grew crops such as wheat and alfalfa, but he also raised sheep. So even though Ramona was just a little girl, it was her job to take care of the sheep. But she had a good helper: it was a big dog! Since she was little, only six or seven years old, sometimes she would climb on the dog's back and hold him around the neck while she rode him like a horse. It must have been fun tending sheep that way. The family called her "la pastoreta" which in Catalan means the little shepherd girl.
When Ramona became older a terrible thing happened in her country. There was a civil war called the Carlist War, and soldiers began fighting right around the town of Ulldecona. The saddest part is that some of Ramona's brothers were fighting on one side, and some were on the other side. Wouldn't that be awful!
Some nights Ramona's mother would have her take food to the brothers in one army and another night she would carry food to the brother fighting on the other side. It was a terrible time for the whole family. Ramona and her mother loved all the brothers and want them to be hungry.
When Ramona grew up and got married, she asked her husband if they could leave the town of Ulldecona because it had to many sad memories for her. They went to Barcelona to love, and Ramona said she never wanted to go back to the sad little town of Ulldecona where she grew up.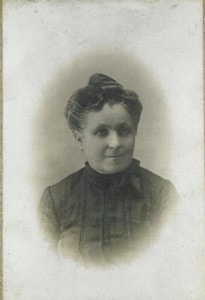 Ramona Moralles
Maybe the hard life that Ramona went through helped give her such a strong character to be willing to do hard things to help her family. She was our Avi's great-grandmother. (That would make Ramona my great-great-great grandmother). All her life she did many things to help Avi and his family.
Once she did something very funny, but you will see that she did it because she loved her family. At one time they did not have very much money and so Ramona started to do housework for a wealthy lady. The house where this wealthy family lived had a flat roof, and they raised pigeons and rabbits there that they would kill and eat. One day the lady sent Ramona up to the roof to kill some of the pigeons to fix for their dinner.
As Ramona was killing the pigeons, she began thinking of her own family, and how much they would like to have good food like this to eat. It made her mad to think that this family had so much and her own little grandchildren did not have good food. She began pinching the pigeons as she pulled off the feathers. This made red marks on the pigeons' skin, and that gave her an idea. She kept pinching the skin until the dead birds were covered with red marks.
When she took the pigeons down to the wealthy lady, she said, "The pigeons had some kind of sores on them, but don't worry, I have cleaned them up. See, I pinched off all the sores that had pus, so they are all right to eat now." The wealthy lady said, "Oh no, Ramona, we can't eat pigeons that had some kind of a disease!" She told Ramona to throw them all out.
You can bet Ramona knew just where to throw them! She made a little package, and when she went home that night, she took a little bundle of pigeons to her own family to fix for dinner. They had a delicious meal! The family laughed for many years about the story of Ramona and the pigeons. You can see that she enjoyed helping take care of her family, whether in Ulldecona or in Barcelona.
Today Ulldecona is a prett town with nice clean streets and a little stores. It still has some rock houses and rock fences that divide the fields outside of town. The children who grow up in Ulldecona now have a much easier time than Ramona did. But when we look at the hillsides near Ulldecona, we can still imagine a little girl hanging onto the back of a big shaggy sheep dog as she was sent out to watch over the sheep.
Share with us a story from one of your women ancestors! Write a post and link to it here.
© 2007-2011 Chocolate on my Cranium, LLC all rights reserved