Ah, spring! The weather is cold and snowy one day and gloriously sunny and warm the next, only to have it turn windy and cool again. This week we took advantage of all types of weather.
On Tuesday the kids talked Mr. Ferrero Rocher into giving them a ride on the grade-all.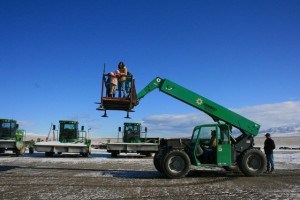 It goes up much higher than our bucket truck – telescoping up about 40 feet in the air!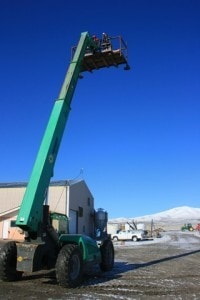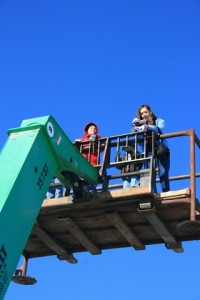 Notice mama (who is afraid of heights) was firmly planted on the ground. And because the weather was too cold for playing outside, riding horses in the house helped to get the wiggles out.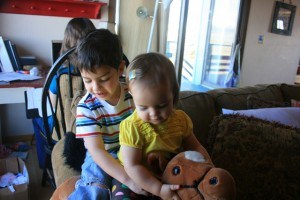 Thursday, the weather was perfect. . .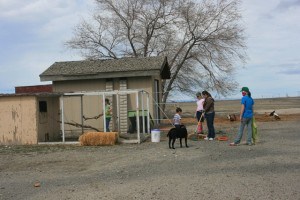 for mucking out the chicken coop.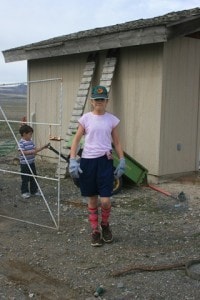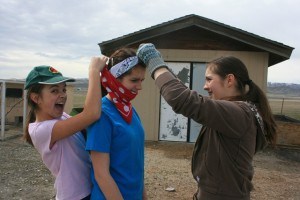 Please don't ask me where in the world they get their cleaning outfits from!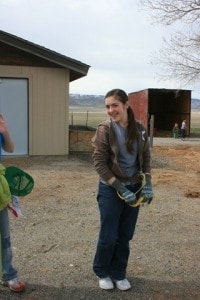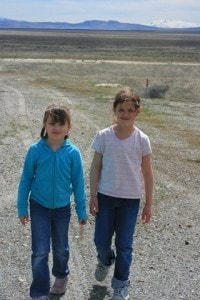 At least these girls inherited my genes (ha ha). Cookie and Fudge had just finished dumping the chicken manure into the garden area and were walking back up to the house.
I just stuck this in here because Hershey's so cute trying to chase the chickens.
Friday was another beautiful day!
We received a wonderful surprise (I'll talk about that on Wednesday) and the kids got to do a little shooting with dad.
Again, I feel I must explain the outfits on the older girls. They had just gotten done exercising.

The weekend turned windy and cold again, which was okay as we spent the majority of the time watching General Conference.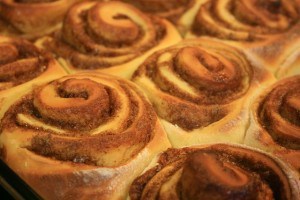 And making cinnamon buns.