Transcripts for the 2011 BYU Women's Conference still aren't up. Hopefully they will be soon! You can watch a few of the sessions starting tomorrow on BYUTV. Click here to see the schedule. For more detailed schedule times click here for Monday (Sister Beck's is at 10:30am!), Tuesday, and Wednesday.
I was kind of waiting for the transcripts to come out instead of sharing my notes from the sessions I attended. Then I realized the ones I attended might not be shared on the Women's Conference website. And I've been asked by several people to share the notes I do have – so here they are in all their, um, unorganized glory. 🙂
Also, they aren't as detailed as my notes from Sister Beck's talk. There were a lot of stories and personal experiences the presenters told that I didn't write down.
Enhancing Our Temple Experiences
by Janet Lee Chamberlain and Sharyl Moyes
Sister Chamberlain – first speaker (matron of the Jordan River Temple)
Told story of five year old boy being in the temple to be sealed to his parents. When asked what his favorite memory of the temple was he replied, "All the grandmas in their nightgowns."
Analyzing his answer Sister Chamberlain pointed out:
How do we feel around our Grandma? We feel safe and secure and are usually our very best self.
When Grandma is in her nightgown we know she isn't going anywhere. She is there for us.
Grandma loves us for who we are.
All this was expressed in that little boy's response.
That is how we all feel when we are in the temple.
Reasons people go to the temple: feel the spirit, feel close to those we love on the other side of the veil, to receive inspiration, to be taught.
Story of 16 year old young woman who went to do baptisms before school on a weekday. She went seeking help about her new calling as the Laurel class president and the two girls she would call as counselors. She told Sister Chamberlain, "The baptistry is the Celestial Room for the unendowed."
another story of a family who spent their spring break visiting five temples so their children could perform baptisms
When we are in the temple we can 'see' ourselves and others as the Lord sees us. We can see the potential for perfection.
"No work is more of a protection to this Church than temple work and the family history research that supports it. No work is more spiritually refining. No work we do gives us more power. No work requires a higher standard of righteousness." (Boyd K. Packer, The Holy Temple)
We must allow ourselves to be taught. We must search, ponder, pray, and invite the Spirit to teach us.
There are principles of the gospel taught with every ordinance in the temple.
Story of 18 month old being sealed to his parents. When he was brought to the sealing room he tiptoed in to his parents' open arms then whispered, "I see Jesus!"
We use our agency to allow ourselves to be held and cradled by the Lord.
Sister Moyes – second speaker (former matron of Ogden Utah Temple)
Each of us has a special treasure box. It holds some worldly and some spiritual treasures.
What treasures am I collecting?
The temple is necessary to get to the place we want to go – the Celestial Kingdom. Exaltation cannot be obtained without the blessings received in the temple. Temple work must be done not only for those who are dead but for ourselves as well.
What we do on earth has consequences for eternity.
The temple is our treasure.
"I am satisfied that if our people would attend the temple more, there would be less of selfishness in their lives. There would be less of absence of love in their relationships. There would be more of fidelity on the part of husbands and wives. There would be more of love and peace and happiness in the homes of our people."(Gordon B. Hinckley, Regional Representatives' Seminar, 6 Apr. 1984)
Being a Woman with a Mother Heart (based on the talk A "Mother Heart" by Julie B. Beck)
by Val Lyons and Tammela S. Thackeray
Sister Lyons – first speaker
As women we nurture, have a strong sense of purpose & identity, we share talents and skills.
Read Pres. Uchtdorf's talk "Of Things that Matter Most"
The stewardship of a mother has both joys and heartaches.
Develop deep and loving relationships with our children by doing simple things together.
How do I stay focused on what matters most? Ask:
What matters most to me?
What do I want my children to learn?
How do they see me view my role as a mother?
Rely on Heavenly Father as a partner.
We can feel more joy in our call as mothers if we develop a relationship with Heavenly Father.
Take time to do simple things with your children: go on walks, garden, look at sunsets or sunrises.
Our Heavenly Father has given us different talents and abilities to help us fulfill our unique roles in motherhood. There are as many different kinds of "mother hearts" as there are women.
"Learn to see yourself as Heavenly Father sees you—as His precious daughter or son with divine potential." (Pres. Dieter F. Uchtdorf,
Of Things That Matter Most
)
As mothers we are role models to our children
Sister Thackeray – second speaker
We are women that must develop a mother heart.
Four simple ideas to remember:
Our divine inheritance
Slow down
Remember to remain grateful
Life is a test. We need difficult things to help us grow.
1- We are created in the image of God sent here to accomplish a specific mission.
"Man even in his present degraded — aye, fallen condition — still possesses, if only in a latent state, inherited traits, tendencies and powers that tell of his more than royal descent; and that these may be developed so as to make him, even while mortal, in a measure Godlike." (James E. Talmage)
Luke 17:21 "..for, behold, the kingdom of God is within you."
A woman with a mother heart is one in which we can see the Savior in her interactions with those around her.
2- Slow Down
Do not run faster than we have strength. When we work/run faster than we have strength we suffer. There is a time and season for everything.
Eliminate from our routine that which is not directly related to building up the kingdom.
3- Remember to Remain Grateful
Pray to have your heart an overflowing vessel of love and gratitude.
4- Life is meant to be hard.
Devotion and sacrifice is necessary to have a mother heart.
Someone who does not recognize it takes work to be a mother will eternally think it is a forboding task.
A mother's heart trusts implicitly in the Savior. A woman with a mother heart sacrifices constantly.
"Without the devotion and absolute testimony of the living God in the hearts of our mothers, this Church would die." (President Heber J. Grant, Gospel Standards, comp. G. Homer Durham (1941), 151)
We received delicious bittersweet chocolate hearts as handouts walking out of this session. 🙂 They were really, really good!
Like Lionesses at the Gate of the Home
by Mary Ann McConkie and Margaret D. Nadauld
Sister McConkie – first speaker
showed pictures of various homes and places with lion statues guarding the entrances. The following two are the only ones I remember and could find images of on the internet. The captions are what Sister McConkie said about them.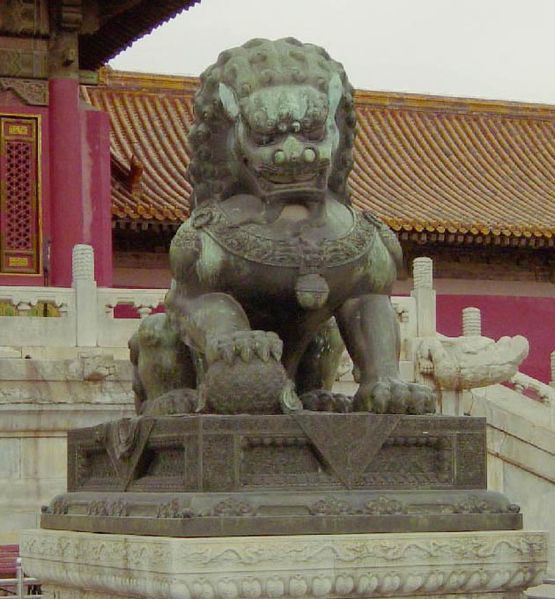 Hopefully this is not the image (facial expression) we are being compared to though we may feel that way at times.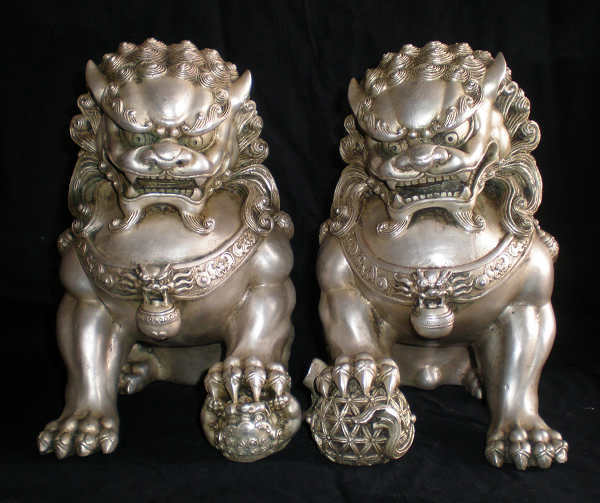 Most lion statues are created in pairs with the female (yin) holding a cub and the male (yang) holding an embroidered ball representing the world. Symbolically these represent the male guarding the structure while the female guards those dwelling inside.
quoted Wordsworth, "The world is too much with us."
Being a lioness at the gate of the home means SHE IS THERE. She knows what is coming in because she is present.
We must never forget the power of our prayers.
Scripture study another necessary tool to guarding the gate. Scripture study a personal seed bed out of which testimony grows.
Covenant keeping is crucial.
Teaching our children how to find the answers will give them weapons to combat the evil they will face.
The word of God contains the mind of God.
"True doctrine, understood, changes attitudes and behavior. The study of the doctrines of the gospel will improve behavior quicker than a study of behavior will improve behavior." (Pres. Boyd K. Packer,
Do Not Fear
)
What words of doctrine from me does this child need to hear?
"Whatever happens in that home and family happens because she cares about it and it matters to her." (Julie B. Beck)
Take inventory on what matters to me as the mother.
It is much easier to continue a pattern than to start one.
Lionesses – guard, protect, teach, love and
even growl and pounce
when the need arises
Sister Nadauld – second speaker
How do we have a home where magic happens? It begins with a good woman. A mother's responsibility is awesome and eternal.
We received our first lessons in motherhood in the world of spirits. "Even before they were born, they, with many others, received their first lessons in the world of spirits and were prepared to come forth in the due time of the Lord to labor in his vineyard for the salvation of the souls of men." (Doctrine and Covenants 138:56)
A lioness is a protector and a preparer. Don't let yourself be distracted from keeping a watchful eye on your family.
For Strength of Youth pamphlet is a tool to help protect.
Protect your family from birth with spiritual training.
How blessed are children whose mothers teach and model modesty.
The wonderful work of women – fulfilling household duties.
Story of some young adult women making pies for a church gathering. When asked how they made such wonderful pies one replied she had never made pies before in her life but while she made these pies she remembered her mother's hands and what they would do. As she worked she pictured her mother's hands.
Purposefully prepare children to be strong physically, spiritually, and emotionally.
Sometimes moms would rather be soft pussycats keeping her kittens curled up by her side instead of lionesses that teach and prepare.
Take courage it is worth everything to work tirelessly to guard the gate of your home.
**********************************************************


Join us for Society Sunday! Read the latest excerpts from the May 15th 1873 Women's Exponent.
© 2007-2011 Chocolate on my Cranium, LLC all rights reserved